The San Francisco Department of Public Health is reporting that half of all injuries being treated by staff at SF General Hospital resulted from traffic collisions. The surprising report, which was picked up by The Examiner, covers the years 2012, 2013 and 2014 and said that the cost of treating those injuries totaled approximately $30.5 million each year.
Of patients observed, which were more than 4,000; treating the injuries of pedestrians took up 44% of the annual expenditures. Next were motorists, either drivers or passengers, who used up 22%, followed by motorcycle riders at 18%, and then cyclists who required 16%.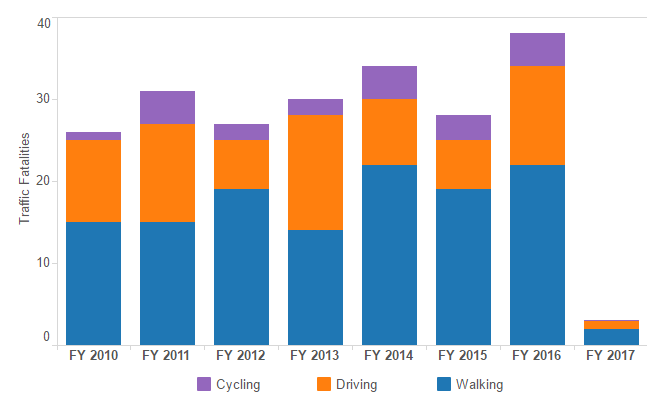 Nicole Ferrara, executive director of Walk SF, an advocacy group for pedestrians, said that the results from the DPH study did not sit well with them, saying "The fact that all other causes for injury including cuts/pierces, falls, assault, and firearms are greatly diminished when compared to injuries from traffic-related crashes is astonishing." 
This report brings more attention to Vision Zero and its effort to lower traffic fatalities in San Francisco city streets down to zero by the year 2024. By just focusing on how many traffic-related fatalities there are, rather than looking at the total number of injuries, it is far too easy to avoid recognizing the true scale of the dangers faced by people trying to navigate the streets of San Francisco.
"This report shines a light on how pervasive traffic crashes are in our society and how urgent the need is to invest in tried-and-true strategies for preventing collisions," Ferrara told a reporter for The Examiner.

According to statistics provided by the city, approximately 30 people are killed and 200 sustain "serious injuries" each year on the streets of San Francisco. The chart below reveals that in the 2016 fiscal year, those numbers have tragically been surpassed. 
If you or a loved one has been the victim of motor vehicle negligence and would like to speak with a Bay Area auto accident attorney, please contact us. We are here to answer your questions and discuss how to protect your legal rights.
The Automobile Accident Attorneys at O'Connor, Runckel & O'Malley are well known and respected throughout the legal community and among our clients. From our offices in Contra Contra Costa County, San Francisco and Sacramento, we serve clients throughout Northern California. Our experience and expertise are available to you.
(Source: SF Examiner, City of San Francisco)
Published on behalf of O'Connor, Runckel & O'Malley LLP