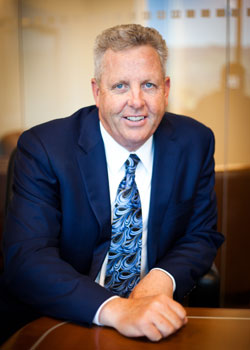 Dan O'Malley (Judge Ret.) was born and raised in the East Bay. He comes from a family of eleven, all of whom settled in the Bay Area. His practice focuses on Criminal Defense, including White Collar crime and Cal OSHA defense, Government Relations and Personal Injury. He also specializes in Mediation and Arbitration of complex and simple civil actions. He has litigated, mediated, presided over and supervised thousands of cases in these areas. Dan grew up in Contra Costa County, attended De La Salle High School and local college. He has been practicing law for the past 22 years, both as a Litigator and a Judge. Many of his family members are involved in the practice of law. His father, Bill O'Malley was the elected District Attorney, a Superior Court Judge and a Public Defender. His sister Nancy O'Malley is the elected District Attorney of Alameda County. His wife, Judge MaryAnn O'Malley is a former Deputy District Attorney and now a Judge with the Contra Costa County Superior Court. The couple was recently featured in Diablo Magazine as one of the East Bays' Power Couples.
As a Deputy District Attorney, Dan's assignments included the following: Homicide trial lawyer, Three Strikes trial lawyer, Juvenile trial lawyer as well as supervisor, Felony trial team lawyer, Misdemeanor and Felony charging deputy, Misdemeanor trial deputy as well as Supervisor, Law and Motion lawyer, Homicide Watch Search Warrant lawyer, Preliminary Hearing lawyer and supervisor, Special Operations (White Collar Crime, Civil Litigation, Environmental Crime, Consumer Fraud, Cal Osha Violations). As a Deputy District Attorney, Dan was regarded as a fierce trial lawyer. He tried many hundreds of cases including close to one hundred jury trials. He also evaluated and supervised thousands of cases, both criminal and civil. As a Judge, Department 13 (Dan's Department) presided over many civil and criminal trials. He personally mediated and settled hundreds of civil and criminal cases. He attended many educational classes with the California Judges Association as well as the Administrative Office of the Courts, California Judicial Education and Research, and the Straus Institute for Dispute Resolution (Pepperdine University). In 2005 he was one of nineteen appointed to the California Judges Association Ethics Committee.
Dan was an instructor for the California District Attorneys Association statewide homicide investigators as well as local investigators. He annually taught Coping with Defenses in Homicide Cases, Evidence and Direct and Cross Examination as well as being published in the CDAA manual. Dan was Senior Instructor for the Los Medanos Criminal Justice Training Center (Police Academy) from 1988-2000. His topics included Laws of Arrest, Criminal Law, Laws of Evidence, Search and Seizure, Homicide, Crimes of Property and Persons, Miranda and Police Ethics. Dan was also an Instructor at Los Medanos, Diablo Valley and Contra Costa Colleges in the areas of civil and criminal law. Currently, he teaches Statewide Police Officers in the Institute of Criminal Investigation in Sacramento California.
In March 2000, Dan O'Malley was elected Judge of the Superior Court in Contra Costa County. Judge O'Malley's assignments included Supervising Judge of the Pittsburg Branch, Trial and Law and Motion, Proposition 36 Drug Court Supervisor. Dan then transferred to the Martinez Branch where he became the Criminal Calendar Supervisor. He handled all felony Dan's duties and accomplishments include Supervising Judge of the Pittsburg Branch of the Superior Court, Proposition 36 Supervisor, Trial and Law and Motion Judge, Criminal Felony Calendar and Trial Judge for the Martinez Branch and Civil Calendar and Trial Judge in Martinez. Judge O'Malley was a well respected by his colleagues on the bench as well as the litigants. He was honored by Recovery Happens for his outstanding work in helping litigants struggle through the Prop 36 and Drug Court litigation. Dan's extensive and unique experience has made him an invaluable representative for his clients. He understands the value of his client's cases. His credibility with Judges, Civil Litigators and Prosecutors affords his clients the best opportunity for justice. He is completely committed to giving the best representation to his clients.
Bar Admissions:
California, 1987
Education:
John F. Kennedy University School of Law, Pleasant Hill, California, 1987
J.D.
California State University, San Francisco, CA, USA
B.A.
Major: Communications
Published Works:
Trial Tactics, California District Attorneys Association, 1998
Past Employment Positions:
Contra Costa County Superior Court, Judge, 2000 - 2006
Contra Costa County District Attorneys Office, Deputy District Attorney, 1987 - 2000
Links