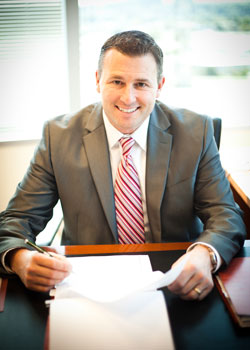 Jason O. Runckel is a founding partner of the firm and currently focuses his practice on Criminal Defense and Personal Injury.  As a partner in O'Connor & Runckel & O'Malley LLP, Mr. Runckel regularly litigates personal injury claims, wrongful death actions, and defends clients in all misdemeanor and felony matters.

As a 3rd generation Contra Costa County native, Mr. Runckel went to St. Isidore's School in Danville and De La Salle High School in Concord.  He graduated from the University of California at Davis with degrees in Philosophy and American History. 

In 1995, Mr. Runckel attended the University of Pacific, McGeorge School of Law.  Mr. Runckel made the Law Review and the Dean's list in 1996, 97, and 98.  He graduated from McGeorge with Honors, finishing at the top of his class.  Mr. Runckel is also a published author.  While attending McGeorge School of Law, Mr. Runckel published many articles in the Pacific Law Journal, including: Comment, Abuse It and Lose It: A Look at California's Mandatory Chemical Castration, 28 Pac. L.J. 547 (1997); Ending a Prisoner's Right to Have Personal Visits, 28 Pac. L.J. 772 (1997); and The Road to Redeveloping California's Military Bases, 28. L.J. Pac 861 (1997).
From 1998 to 2007, Mr. Runckel held a position as a Deputy District Attorney in the Contra Costa County District Attorney's Office.  As a Deputy District Attorney, Mr. Runckel prosecuted thousands of cases and has tried over 70 jury trials ranging from Driving Under the Influence to Attempted Murder.  In addition to Mr. Runckel's extensive adult jury trial experience, he has also tried over 75 juvenile trials including, First Degree Murder, Attempted Murder, Torture Causing Great Bodily Injury, Drive-By Shootings, and Witness Intimidation.
As a prosecutor for nearly 10 years, Mr. Runckel has been assigned to several specialized units including the "Three Strikes Unit" (in every case the criminal offender is facing life imprisonment), Criminal Street Gang Division, Drug Unit, Felony Trial Team, and Juvenile Unit.  Having handled numerous high-profile cases during his career as a Deputy District Attorney, Mr. Runckel is highly skilled in public relations and controlling the media. 

Mr. Runckel also has substantial civil experience.  As part of his assignment with the Narcotics Unit at the District Attorney's Office, Mr. Runckel handled all asset forfeiture cases in Contra Costa County.  He was responsible for all civil discovery, litigation, and trial work.  Between 1999 & 2000, Mr. Runckel participated in seizing well over a million dollars in asset forfeiture monies.

Having negotiated thousands of cases with other lawyers and judges, Mr. Runckel has developed an acute ability to quickly assess the weakness and strengths of both criminal and personal injury cases.  Mr. Runckel's analytical skills combined with his extraordinary negotiating abilities have been an immeasurable asset to the clients of O'Connor, Runckel & O'Malley.

Mr. Runckel has practiced his entire career in the bay area.  He continues to live in the bay area with his wife and children and is actively involved in the community.