The truth is that a great number of people who must seek compensation for injury or death on our nation's roads do so for accidents related to trucks.  According to the data provided by the US Department of Transportation there are close to half a million truck accidents each year nationally, with a larger than average percentage of highway fatalities caused by accidents involving trucks.  These are sad and difficult statistics given just how few of them are on the roads comparative to other vehicles.  According to the 2013 SWITRS report on trucking fatalities compiled by the California Highway Patrol (CHP) where a truck driver was at fault, the five most common causes were:
Improper turning
Unsafe speeds
Not giving an automobile the right of way
Ignoring traffic signals and signs
Not giving pedestrians the right of way
Negligence behind the wheel is never good.  Unsafe speeds are always bad.  However, as with motorcycles, these types of vehicles produce more risk than cars due to their size.  The size of these rigs are well beyond that of an average vehicle, topping out at 40 tons.  The weight and size makes the level of damage and higher than average fatalities proportional to their existence on roads.  Truck accidents not only produce more deaths but also result in far more traumatic and debilitating injuries than other vehicular accidents.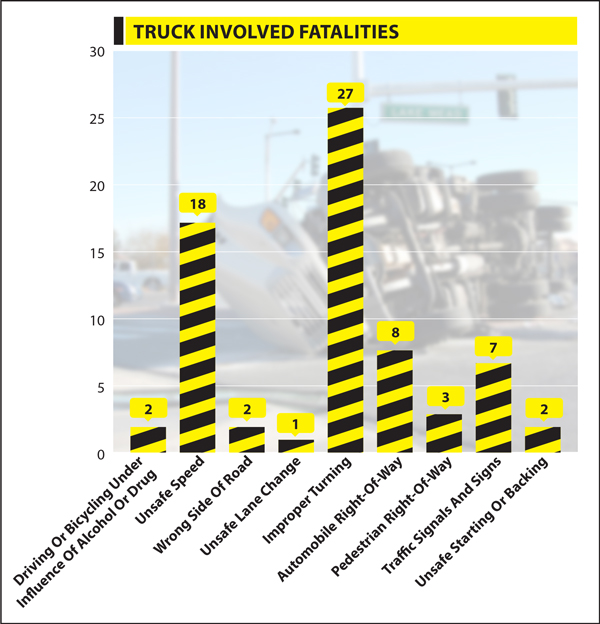 As truck accident lawyers we see many of these cases, not just due to the size of the vehicles but their lack of maneuverability, and –at times—driver negligence.  How commercial vehicle drivers are paid, in some cases, has an effect on how long they will stay on the road without sleeping or how they drive.  This is unfortunate, but true. Personal injury attorneys see the results of lack of sleep, medication, and irregular vehicle maintenance all too often.  Many of the causes of accidents involving trucks are avoidable. 
At O'Connor, Runkel, and O'Malley LLP we do our best to provide for accident victims and their families by promoting their legal rights for compensation.  When individuals do live through truck accidents, they often have months of rehabilitation in hospitals and their families see the bills pile up—that is when they walk away at all.  We want to help the victims of vehicle negligence, and we also want to remind people to give safe distance between themselves and these large trucks and leave their cell phones off while driving.
If you or someone you love has been injured in a truck accident, our firm wants to help.  We understand this is a difficult time for you and are here to answer your questions and discuss how to protect your legal rights.
Published on behalf of O'Connor, Runkel, and O'Malley LLP