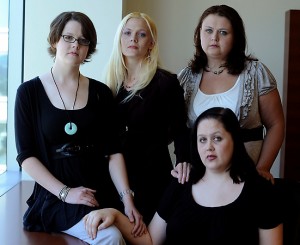 Antioch, CA

Six sisters who had been sexually abused by their parents virtually every day since they were toddlers say that their nightmare grew more horrific as the people they counted on to rescue them -- police, child-welfare workers, their church pastor -- failed to deliver.

Bruce "Zion" Dutro, 51, was sentenced to 300 years in state prison, and his 49-year-old wife was sentenced to 15 years in 2011 after taking a plea deal in what veteran sex crimes prosecutor Paul Graves called the worst child sex abuse case in memory to go through Contra Costa County courts.

A year after their parents were imprisoned for sex crimes spanning 20 years, the Dutro sisters -- Glenda Stripes, Amber and Sarah Dutro, Martha McKnelly, Frances Smith and Christina Moore -- are now suing the people and agencies they say failed to protect them as children by not following laws and procedures for handling child abuse.

"Every one of the agencies had the duty and power to save these girls, and every one failed them," said the sisters' attorney, Jason Runckel, founding partner of O'Connor, Runckel & O'Malley. "They made their father untouchable. The girls never had a voice."

The lawsuit, filed in Contra Costa Superior Court last week against Contra Costa County, city of Antioch, Calvary Open Bible Church in Antioch, and seven individuals who are either current or former CPS, police department or church employees. It alleges the defendants were negligent and failed to fulfill state-mandated duties that, if done, would have spared the Dutro children years of further abuse.

"We came forward because we didn't want it to happen to another child," said Sarah Dutro, 28. "We didn't know until the case was over how badly everyone screwed up before." The suit asks for an undisclosed amount for past and future medical bills, and pain and suffering for the sisters, each of whom suffers from severe psychological disorders as a result of the abuse. Now adults with 12 children among them, the sisters gave permission to reveal their names in this story.

The 22-page civil complaint names defendant Mark Wood as the pastor whom Stripes first told about the abuse Aug. 2, 1995, and claims his immediate tipoff to the parents afforded them time to condition their daughters to lie to authorities.

That same day, the parents locked up five of the girls in one bedroom and Glenda in another, the victims said. For 16 days, until police sent CPS to the house Aug. 18, 1995, the sisters said they were beaten, starved, sleep-deprived and brainwashed on what to say to authorities. Young Glenda, meanwhile, was subjected to the same torture between rapes.

Wood, Stripes and her parents first went to the Antioch Police Department six days after the 14-year-old had confided in Wood. Officer William Dee noted in his police report that he was instructed by Detective Demetree Barakos before the meeting not to arrest Bruce Dutro, and so he sent the family home after obtaining a confession from the father, said Runckel, the sisters' attorney. Both Barakos and Dee are defendants in the lawsuit. It was another officer who called Bruce Dutro back to the Police Department on Aug. 18, 1995, and sent CPS to the house after obtaining a second confession.

"They actually apologized to my parents for being there, as if it was an inconvenience," said McKnelly, 26.
Bruce Dutro pleaded to one count of child molestation for fondling Stripes, when in reality he was raping her, she said, and he spent four days in jail before being sentenced Nov. 1, 1995, to three years of probation. The judge ordered him to register as a sex offender and obey all CPS orders.

For the first six months of his probation, Bruce Dutro lived in an apartment near the family home. Glenda Lea Dutro moved in with him, leaving their daughters by themselves at the house with little food. Like many times in the course of their childhood, the Dutro girls were not enrolled in school.

At night, their mother would bring one of them to the apartment to have sex with their father. Had anyone from the county ever visited the house as they were supposed to, they would have at minimum learned that the girls were living without adult supervision, Runckel said.

"My father told me after 1995 and he was slapped on the wrists, every time he molested me, it was like laughing in their face," Stripes said. "It's not about getting money. I want things to change so no child has to go through what I went through."

O'Connor, Runckel and O'Malley is a law firm dedicated to the protection of the victims of sexual abuse.