RICHMOND, CA – A female passenger in a vehicle that crashed while exiting the I-80 off-ramp passed away Sunday morning as a result of her injuries. The driver was arrested and is being held on suspicion of driving while under the influence, according to a spokesperson for the California Highway Patrol. CHP Officers arrived on the scene of the accident at 11:30 p.m., which was in close proximity to the Cutting Blvd. off-ramp from Highway 80 westbound. Officers responding came upon an overturned 2003 Lexus sedan.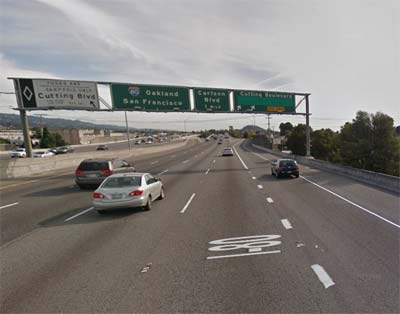 The passenger, whose name is not being released at this time, was fully ejected from the vehicle, according to Officer Sean Wilkenfield of the CHP. An ambulance rushed her to the hospital, where she ultimately died as a result of her injuries.
Accident investigators concluded that she had not been wearing a seatbelt when the crash occurred, Wilkenfeld said.

Twenty-one year old Lexus Taylor, the driver, was also taken to the hospital after suffering major injuries in the accident, where officers determined that she was drunk. Taylor was put under arrest, but remains hospitalized in stable condition.
Vehicular manslaughter occurs when an individual recklessly causes the death of another person through the use of any type of motor vehicle. If you or a family member has been victimized by motor vehicle negligence and need to consult with an auto accident attorney located in the Bay Area, please reach out to us. We are available to answer any questions you have, advise you of your legal rights and how best to protect them. We at O'Connor, Runckel & O'Malley have more than 50 years of experience handling the litigation and going to trial representing victims of auto accidents. We have the right expertise along with a proven track record of prevailing in auto accident and wrongful death cases.
(Source: KRON 4 News )
Published on behalf of O'Connor, Runckel & O'Malley LLP