According to officials who spoke out on Monday, the sightseeing tour bus that went out-of-control last week crashing at Union Square in San Francisco, possibly due to brake failure, was not registered with the state of California nor had it been inspected, which are both required by law.
The open-air, double-decker bus being run by City Sightseeing, was not officially listed as part of the company's fleet, according to a spokesperson from the California Public Utilities Commission, the agency charged with regulating tour buses.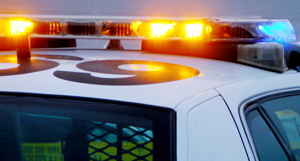 Spokesperson Christopher Chow said, "We had no awareness of this particular bus until the crash. City Sightseeing never notified us they had acquired this bus and had included it in their operation."
Monica Christopher, who supervises the Motor Carrier Safety Unit of the California Highway Patrol, which inspects all tour buses in the state, said the bus involved in the tragic crash was a 2000 Orion, one that her unit had yet to inspect.  
"The San Francisco police department has asked us to take a look at the bus," she added, saying they would begin the inspection soon. The rules laid down by the Public Utilities Commission demands that all tour operators tell them within ten days of adding any vehicle to their fleet, which allows the CHP to inspect the vehicle. She emphasized that no one in her office had ever been notified to inspect this bus.
She went on to say that her office visited the operator as recently as September, giving it a rating of "Satisfactory," after inspecting their operation. The CHP, as well as the San Francisco police department and Public Utilities Commission are investigating the crash in Union Square.
One of City Sightseeing's drivers, Kenneth Smalls, who had no involvement in the crash, said that the smashed bus was bought in the past year or two from a New York tour bus company. He couldn't recall any problems with this bus since the company has owned the vehicle.
The Motor Carrier Safety Unit of the CHP usually inspects approximately 9 vehicles within a given fleet of 27, which City Sightseeing listed they had during September's inspection, according to officials.
What Regulators Require
Any carrier that operates a bus that has the capacity to carry 11 or more passengers must pass a California Highway Patrol safety inspection. This must be done prior to being granted a permit to operate said bus. This is according to regulations set forth by the state of California. The carrier's authority to operate can be revoked if one of their vehicles fails an inspection. Their authority can be reinstated only when they pass a re-inspection and pay a $1,000 fee.
Christian Watts, chief executive of City Sightseeing, did make a statement to reporters after the crash, which said that they were "deeply saddened" and would cooperate with authorities on the investigation. He told The Chronicle on Monday that his company "inspects all vehicles at least every 45 days and the bus involved in Friday's crash had it's last inspection on October 25, 2015."
If you read their website, the San Francisco bus operation, known for its bright colored yellow and red buses, has transported nearly 1.5 million people in the last 5 years using more than 20 open-air type buses, minibuses and vans. This is a franchise operator of City Sightseeing Worldwide, a company founded in 1999 in Spain, which provides tours in different cities around the world.
On the website for the parent company it says, "Local operators are given flexibility in introducing an infrastructure that will suit their local needs, with the full support of the parent company, City Sightseeing Worldwide." The website goes on to say, " City Sightseeing Worldwide oversees the creation of each new tour and continues to monitor every location, assessing the quality of their standards and the entire visitor/passenger experience."
According to state regulators, City Sightseeing has had a proper license to conduct business since July 2013 when an employee of the company acquired the franchise.
Before that, the company had been in trouble with state regulators because the Public Utilities Commission suspended and then reinstated their permit a number of times between the years of 2007 and 2013. They had also imposed a fine of $1,000 on the company for not following orders to produce certain records while being audited.
Jane Kim, San Francisco Supervisor, said on Monday that police investigators think "a mechanical failure" could have led to the crash, although the investigation is still ongoing. They suspect that the brakes might have failed, "But we don't know for sure," she said.
Driver Praised by Colleague
Smalls, the other driver for City Sightseeing, said he too had heard that the brakes might be the cause of the accident. He had nothing but praise for the driver, who has yet to be identified, for limiting the number of injured passengers.
 "When the brakes fail and you can't control the bus, you have no choice but to find something that will stop the bus," said Smalls. "Apparently he didn't have much of anything to work with. Despite the dire situation I think everyone's life was spared. He did what he could under the circumstances."
Investigators with San Francisco police did not confirm the reports of the breaks possibly failing, but this would be consistent with statements given by witnesses of the crash. They described a bus speeding and totally out-of-control, hitting a cyclist and several cars while speeding down Post Street on Friday, just before 3:00 p.m.
The bus then slammed into scaffolding at the intersection of Stockton and Post streets, the location of an Apple store under construction opposite Union Square. Passengers were injured in the accident and were heard screaming for help. Some were able to crawl out on their own, while other passengers had to be rescued by firefighters and police officers who had sped to the scene. 
There were approximately 20 injured in the crash, taken to San Francisco General Hospital where 5 remained hospitalized on Monday. Three are still in critical condition, and two were in serious condition. One was able to be discharged Sunday night, Brent Andrews, hospital spokesperson said.
City Sightseeing buses are still operating in the city, although Kim said this crash does bring up questions regarding the regulation of San Francisco's tour buses. She went on to say, "We must set a higher bar for overseeing our tour buses due to their size and the frequency with which they operate as well as their presence on the most congested streets in our city."
Millions of people rely daily on private and public transportation to get where they need to go. If you or a loved one has been involved in an accident on public transportation due to negligence and would like the advice of an experienced personal injury attorney, please contact the law firm of O'Connor, Runckel & O'Malley. We have more than 50 years of trial and litigation experience, with a solid track record of success.We will answer your questions; explain your legal rights and how best to protect them.
Published on behalf of O'Connor, Runckel & O'Malley LLP