Most of the highway deaths involving large truck collisions are of occupants in passenger vehicles. Occupants of smaller vehicles are extremely vulnerable because they must share the road with large trucks. Many trucks weigh 25-30 times as much as an average car and are much taller. The problem is that a smaller car following behind a huge truck risks an underride collision with the truck.

Factors in Big Rig Collisions
The length of time it takes a fully loaded tractor-trailer to brake is one factor contributing to big rig collisions. It can take them 20% - 40% farther that it takes an average car to stop, and even farther if the road is wet or the brakes haven't been properly maintained.
Another factor is truck driver fatigue. Federal law stipulates that drivers operating large trucks can drive no more than 11 hours in one stretch and no more than 77 hours in a week's time. However, surveys suggest that many drivers ignore the law and drive for longer periods of time, which causes them to become overly fatigued.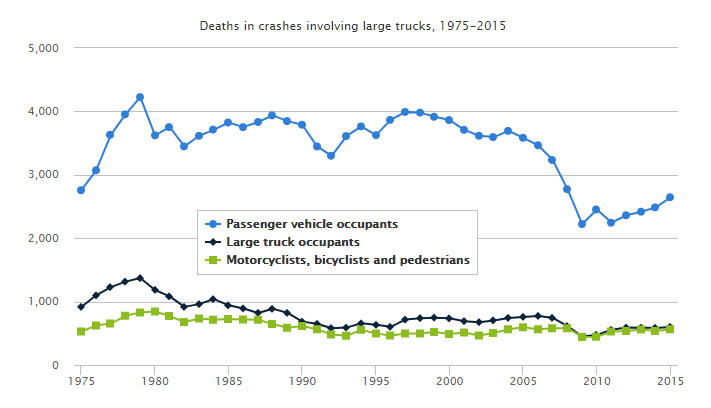 Where Collisions With Trucks Happen
A study on fatal collisions in 2015 that involved large trucks provided the following statistics:
53% occurred on major roads rather than on freeways and/or interstate highways
30% occurred on freeways and/or interstate highways
14% occurred on smaller, less traveled roads
Large Truck Collisions Compared to Passenger Vehicle Collisions
In 2015, over half of occupant deaths in large trucks occurred in collisions that caused their truck to roll over. This percentage was similar to the occupant fatalities in SUVs and pickup trucks that rolled over in crashes. Interestingly, those percentages were much higher than the 23% of occupant deaths that occurred in car rollovers.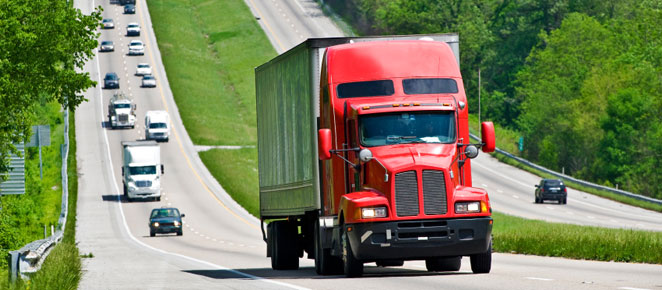 Drunk Driving Has Subsided
Drivers of large trucks killed in fatal accidents almost never are found to have high levels of blood alcohol concentrations (BACs). Truck drivers are under very strict regulations by the government regarding drinking and driving. Only 3% of truck drivers killed in fatal collisions in 2015 showed a BAC level at or above 0.08%. That is far lower than the figure in 1982, which was 51%, so it is apparent that the trucking regulations in place now for drinking and driving are having the desired effect.
At O'Connor, Runckel & O'Malley we have over 50 years of experience. We have the expertise and a proven track record of success in personal injury law. If you or a loved one has been the victim of trucking or big rig accident and would like to speak with an attorney, please contact us. We are here to answer your questions and discuss how to protect your legal rights.
(Source: IIHS)
Published on behalf of O'Connor, Runckel & O'Malley LLP