The chances of getting into a traffic accident go up during times when more cars are out on the road, like during rush hour, or when road conditions and/or visibility are compromised, like during inclement weather. However, the odds of an accident skyrocket when there is an increase in the number of people driving under the influence. Research has been done as to when motorists are most apt to be involved in an accident involving an alcohol-impaired driver. The results offer good information as to when those times occur the most so we can avoid being out on the road when we are at the greatest risk of being involved in an accident.
 The National Highway Traffic Safety Administration (NHTSA), reports that from 2001 to 2005 there were 36 fatal traffic accidents on average per day in the U.S. due to crashes involving a driver impaired by alcohol. Those numbers went up dramatically during the summer months and holidays. Over the Christmas holidays, for example, there were on average 45 fatalities each day as a result of a car accident involving a drunk driver. It rose to 54 fatalities a day over New Year's.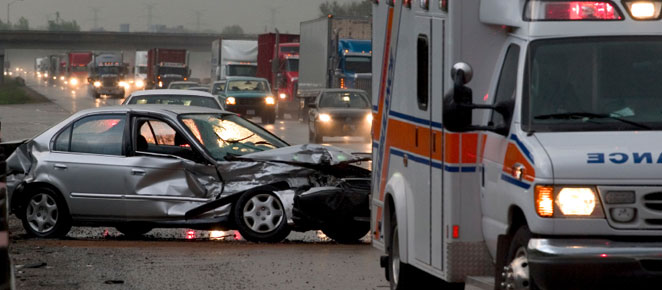 During the summer months the weather is best for driving conditions, with great visibility, dry roads and extended daylight hours. Unfortunately these benefits can be negated by certain other factors that occur in summer. NHTSA reports that there are many more drivers on the road during the summer months, and this includes a significantly higher number of drivers under the influence of alcohol. This causes almost double the number of traffic deaths over the summer months than throughout the entire rest of the year.
Nine out of the 10 most hazardous days for youth driving on U.S. highways occur from May through August each year.
The U.S. Department of Health & Human Services estimates that 5.8% of teenagers 16 and 17 years of age, and 15.1% of those 18 to 20 years of age claimed to have driven while impaired by alcohol in 2010. According to the U.S. Department of Transportation, 3, 115 teenagers from 13 to 19 years of age were killed in motor vehicle crashes in 2010, and approximately two-thirds of those killed were males.
Teenagers tend to have a lot of free time and not enough driving experience, which adds to the risk. Furthermore, they are more apt to become distracted while driving, engaging in activities that not only endangers themselves, but their passengers, other drivers and pedestrians. They are more likely to be on their cell phones texting and taking calls, or grooming themselves while driving.
Most Hazardous Holidays 
The number of drivers travelling our highways reaches its peak during the holidays as family and friends get together to celebrate. There are family gatherings and holiday parties where alcohol is being served. Unfortunately, the numbers of fatalities from accidents that involve drunk driving have become highly predictable. As a result, fatality estimates are being issued by many of our state's highway patrol departments, which are often very accurate.
In the midst of the "100 Deadliest Days" of the summer months is the deadliest of all – Fourth of July. Fatalities due to auto accidents were studied by the IIHS from 2005 to 2009 and the results showed that July 4th was the most deadly day of the year. The average was 144 driving-related deaths on that date alone. Teenagers made up almost 10% of those killed.
The holiday period when the most amount of people travel is over Thanksgiving weekend. Arrests for DUI in the U.S. are at their highest from Thanksgiving weekend to after New Year's weekend. The night before Thanksgiving is known as "Black Wednesday," because it is most likely the busiest night of the entire year for bars in the U.S. Binge drinking socially (consuming a huge amount of alcohol in a very short time span) is also very common during the holiday season from Thanksgiving through New Year's weekend.
Over the Christmas and New Year's Holidays, the number killed in traffic accidents involving a drunk driver went up 34% on average.
The U.S. National Institute on Alcohol Abuse & Alcoholism (NIAAA) claims that 40% of traffic deaths over the Christmas and New Year's Holidays involve drunk drivers. This is 12% more than occurs throughout the rest of December. NHTSA reports that 2,597 people were killed from traffic accidents during the month of December 2010. NHTSA also said that 36 fatalities occurred every day in the United States from 2001 to 2005 due to crashes that involved an alcohol-impaired driver. However, over the 3-day Christmas Holiday, that jumped to 45 fatalities a day, and 54 a day over the New Year's Holiday.
As you might expect, it is more dangerous to drive during the other holiday periods as well. Labor Day weekend, according to NHTSA, in 2010 over Labor Day weekend 147 people across the U.S. were killed due to drunk driving. This was 36% of all fatalities occurring on the highways during that weekend.

Other Hazardous Dates and Times for Drivers
According to the IIHS, with the first deadliest date being 4th of July, the second deadliest date is September 2nd, then August 13th, July 15th, May 20th and November 11th. New Year's Eve comes in 7th, with a total of 130 fatalities on average.
IIHS also found that the top seven out of the 25 deadliest dates for driving in the U.S. occur during August, making it the deadliest month for driving on the road. Second and third for deadliest months for driving are September and July, according to NHTSA, with March having the fewest traffic fatalities.
Many of these most deadly days happen when people come together to celebrate special events and occasions, like the Super Bowl or Cinco de Mayo. For Example, a study by NHTSA found that on St. Patrick's Day 2010, there were alcohol-related car crashes causing a fatality every 51 minutes. This was 32% of all the fatalities that occurred that day.
It's not surprising that the reports by NHTSA say that most traffic accidents happen during rush hour, which is between 3:00 PM and 6:00 PM. Their reports also say that Saturday is the most hazardous day during the week to drive, simply because more people are out on the road, and there are more drunk drivers on Saturday than any other day of the week. The AAA Foundation for Traffic Safety says that 31% of drunk-driving accidents with a fatality, occurs on a weekend, and between midnight and 3:00 AM you will find the highest number of people driving drunk. Fatal traffic crashes are four times higher during the night than in the daytime.
At O'Connor, Runckel & O'Malley we have 50 years of litigation and trial experience. Our personal injury attorneys have the expertise and a proven track record of success. If you or a loved one has been the victim of motor vehicle negligence and would like to speak with a Bay Area auto accident attorney, please contact us. We are here to answer your questions and discuss how to protect your legal rights.
Published on behalf of O'Connor, Runckel & O'Malley LLP
(Source: Bactrack )