SAN RAMON, CA – A little 3-year-old boy tragically died Friday night after his family's car was struck from behind on Interstate 680 when it was out of gas and parked on the shoulder. The California Highway Patrol said a suspected drunk driver was driving the SUV that crashed into the family's Toyota Camry.   
The CHP identified the boy who was killed as Elijah Dunn of San Ramon. He was airlifted from the scene of the accident and taken to Children's Hospital in Oakland, where he died of his injuries.
Elijah's mother, 11year-old brother and 1-year-old sister were also in the car and were taken to hospitals after the accident. His mother suffered major injuries while his siblings were injured less severely, according to authorities.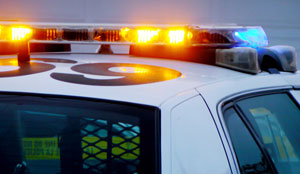 Elijah was enrolled at Karina's Daycare & Preschool in San Ramon, said the daycare's owner, Karina Jimenez who described him as being a mellow, sweet child who was very loveable.
"It was absolutely devastating for us when we heard he hadn't survived," she added.
He was getting ready to celebrate his birthday on September 26th and was so excited. She said that everyone loved Elijah and that he came from a wonderful family. She said she'd spoken with the toddler's grandmother, who relayed that the family was grieving and requested privacy at this difficult time.
Yarenit Malihan, 38, of Pleasanton was driving the SUV at the time of the accident and was arrested on suspicion of DUI as well as gross vehicular manslaughter, both felonies, the CHP reported on Saturday. Malihan was taken to San Ramon Medical Center to be treated for her injuries and then she was transported to the Contra Costa County detention facility in Martinez.
Malihan has the same Pleasanton home address as an Alameda County Sheriff's deputy, and it is believed that they are husband and wife, according to CBS News.
The crash happened around 6:20 p.m. Friday evening during rush hour on northbound I-680 in the vicinity of the Bollinger Canyon exit, clogging traffic for over two hours.
The family had pulled over to the right onto the shoulder, waiting for someone to bring gas, according to John Fransen, a spokesperson for the CHP.
It initially appears that the mother took all the safety measures appropriate for the situation by pulling over to the far right and having everyone remain in the car while they waited for help to arrive, Fransen said. A sound wall along the freeway prevented them from pulling further to the right and away from the traffic lanes.

"It looks like the mother and children in the Camry were wearing seat belts and the smaller children were buckled into child safety seats," the CHP wrote Saturday in a post on Facebook.
There are no prior DUI convictions on Malihan's record, according to the CHP. She was driving under a valid driver's license at the time of the accident.
The rear of the Camry was mostly mangled after being struck by the Toyota Sequoia SUV, which was traveling at an unknown speed, according to accident investigators.
Paramedics transported Elijah, his 11-year-old brother and 1-year-old sister to Children's Hospital in Oakland, while their mother was taken to John Muir Medical Center in Walnut Creek. The mother sustained a number of injuries in the crash, including a broken back and ribs.
Experiencing the death of a loved one is an extremely difficult time and we understand that nothing can truly compensate you for the loss of your loved one. However, if you have lost a loved one in an accident caused by another, you may be eligible to seek a remedy and payment. Protect your rights by contacting an experienced Wrongful Death Attorney as soon as possible. When you call the law offices of O'Connor, Runckel & O'Malley, you will be talking with an attorney who has spoken with hundreds of people in your similar circumstance. You will be treated with the respect and sympathy you need during your time of heartbreak and anguish.
(Source: East Bay Times)
Published on behalf of O'Connor, Runckel & O'Malley LLP