PITTSBURG, CA – A 46-year-old woman from Discovery Bay was tragically killed Wednesday on Highway 4 in eastern Contra Costa County while "driving in safe and lawful manner." Another car plowed into hers, which then set off a wreck involving seven cars, according to the California Highway Patrol.
Theresa Frazer was pronounced dead at the scene, while four others, including a small child, were transported to the hospital. The collision occurred on westbound Hwy. 4 right after 8 a.m. not far from the Railroad Ave. and Harbor Rd. exits, reported CHP Officer Brandon Correia.
This accident occurred soon after another two-car collision in the immediate area that involved a Dodge sedan and a motorcyclist. No one was hurt in that accident, but it did worsen traffic on the crowded highway.
Seeing the traffic ahead, Frazier had slowed down to a stop in her Nissan Sentra, however the Chevy Tahoe SUV behind her did not and just crashed into her car, Correia said.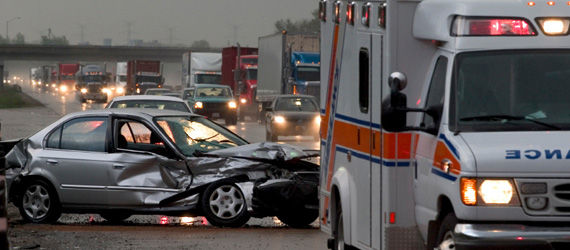 "Here this woman is doing exactly as she should," he said. "She sees traffic, slows down and stops. The SUV for some reason doesn't stop. Our investigation will seek to determine whether it was speeding. That is what we are focusing on. When a car gets plowed into from behind in that manner, it causes a huge impact."
The SUV then went on to sideswipe a Dodge truck and crashed into an Audi sedan before it flipped over and slid into a couple of other vehicles on the highway. The occupants of the two last cars, a Chevy Trailblazer and a Toyota Highlander, were among the three treated at the scene and released. The Chevy Tahoe finally came to a stop when it slid into a Honda Civic.
A passenger riding in the Nissan Sentra did suffer major injuries, but they weren't thought to be life threatening and he was transported to a local hospital, Correia said.
The man and woman who were in the SUV were also severely injured and transported by ambulance to a local hospital, Correia said. Fortunately, they are both expected to live.

Their son was also taken by ambulance to the hospital as a precautionary measure since he did not appear injured, Correia said. Initially, officials said that there were five people hospitalized.
The westbound lanes on Highway 4 in the vicinity of the crash were all closed except for the far left lane. This lasted nearly three hours and a Sig Alert was issued for major traffic. The CHP lifted the alert around 11:15 a.m. after the scene had been investigated and cleaned up.  
Investigators have yet to figure out whether alcohol or drugs played a part in the collision, but they didn't see any signs of them at the site, Correia said.
If you have lost a loved one in an accident caused by another, you may be eligible to seek a remedy and payment. Protect your rights, contact an experienced wrongful death lawyer. When you call the law offices of O'Connor, Runckel & O'Malley, you will be talking with an attorney who has spoken with hundreds of people in your similar circumstance. You will be treated with the respect and sympathy you need during your time of heartbreak and anguish.
( Source: East Bay Times)
Published on behalf of O'Connor, Runckel & O'Malley LLP