O'Connor, Runckel & O'Malley LLP is a law firm serving San Francisco. We represent clients in a wide array of serious personal injury claims. The partners at O'Connor, Runckel & O'Malley have more than 50 years of experience protecting the rights of victims. Our civil litigation, judicial, and prosecutorial careers have been devoted to protecting the rights of victims. We have successfully negotiated thousands of cases and have tried and presided over more than 250 jury trials. Our experience and courtroom skills are unparalleled. Let us put our knowledge and expertise to work for you.
At the law offices of O'Connor, Runckel & O'Malley LLP, we are committed to helping our clients in San Francisco restore both their financial and emotional health. Our firm's goal is to bring justice to those who have been harmed by the wrongdoing of others by seeking full compensation for their losses. We retain the finest engineers, physicians and other experts to obtain the highest possible recoveries. We are proud to play a role in keeping the justice system strong by protecting the rights of the individual. We are results driven attorneys who bring a strong combination of education, experience, and practical knowledge to the representation of our clients.
If you have been seriously injured due to someone else's negligence, contact the personal injury attorneys at the San Francisco Law Offices of O'Connor, Runckel & O'Malley today. We provide free consultations in order to evaluate your case and discuss the legal options available to you.
O'Connor, Runckel & O'Malley LLP
One Embarcadero Center, Suite 500
San Francisco
,
California
94111
(415) 863-3400
The law firm of O'Connor, Runckel & O'Malley specializes in the following personal injury practice areas:
Reviews from clients in San Francisco, CA
As Seen on YELP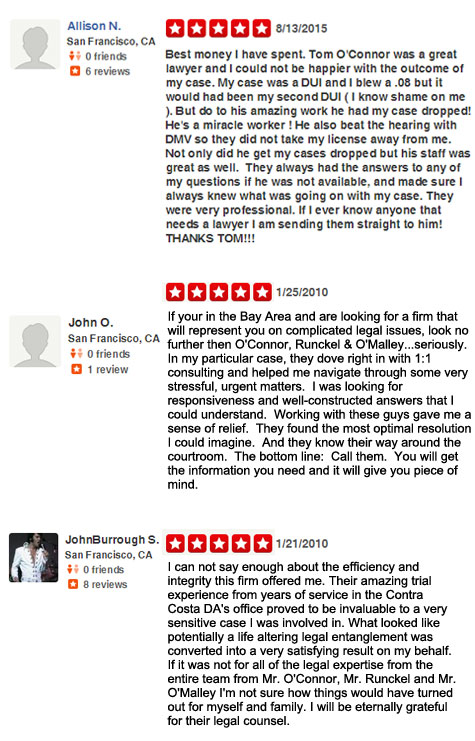 San Francisco, California is the 14th largest city in the United States, and one of the most densely populated. San Francisco is a consolidated city and county, with the city and county of San Francisco sharing the same borders.
San Francisco Resources
Superior Court - San Francisco County