O'Connor, Runckel & O'Malley LLP is a law firm serving San Francisco, California . At O'Connor, Runckel & O'Malley, we are committed to the zealous representation of our clients in a wide array of criminal matters.
The attorneys at O'Connor, Runckel & O'Malley have more than 50 years of trial experience. We have successfully negotiated thousands of cases and have tried well over 250 jury trials. Our courtroom skills are unparalleled. While most attorneys fear the inside of the courtroom, that is where the partners at O'Connor, Runckel & O'Malley feel most comfortable. Let us put our experience to work for you.

If you have been charged with a criminal offense, hiring the right lawyer can make all the difference. At O'Connor, Runckel & O'Malley, we represent individuals in cases involving criminal defense. We are dedicated advocates working to defend and protect the rights of every client.

The lawyers at O'Connor, Runckel & O'Malley have had extensive dealings with state and federal judges, prosecutors, and every law enforcement agency in San Francisco. Our attorneys have negotiated thousands of criminal cases and successfully tried hundreds of high profile felony and misdemeanor cases; including murder, arson, residential burglary, torture, three strikes cases, domestic violence, dui, sex crimes, vehicular manslaughter, juvenile, robbery, and assault with deadly weapon. 

In our San Francisco criminal practice, we draw upon our vast experience prosecuting misdemeanor and felony cases during our combined 50 years as Deputy District Attorneys and a Superior Court Judge. The cornerstone of our law firm's success in San Francisco is the extensive criminal law experience of lawyers Tom O'Connor, Jason Runckel and Dan O'Malley.  In summary, our trial ability and negotiating skills are unsurpassed.


Reviews from clients in San Francisco, CA
As Seen on YELP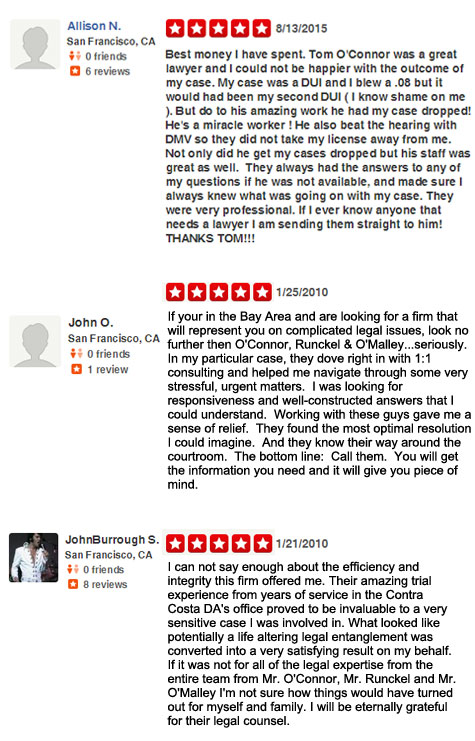 O'Connor, Runckel & O'Malley LLP
One Embarcadero Center, Suite 500
San Francisco
,
California
94111
(415) 863-3400