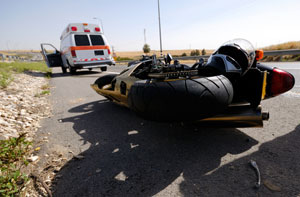 The Bay Area has its share of motorcycle accidents, perhaps due to the fair weather we have in the area that increases the use of motorcycles and convertibles. Last Tuesday, a motorcyclist was killed after colliding with a sedan during the last half of rush hour. The collision occurred just north of the Embarcadero Road off ramp in Palo Alto, according to the California Highway Patrol. Apparently, the motorcyclist was going quite fast when the bike crashed into the sedan, causing the rider to be thrown from the Yamaha. There was no evidence to support any impairment due to drugs or alcohol having anything to do with the crash.
The accident stopped traffic and with other traffic difficulties the first responders could not get to the driver for ten minutes. According to the Contra Costa Times, the Menlo Park Fire Protection District Fire Chief Harold Schapelhouman expressed concern about the failure to reach the accident scene quickly.

Menlo's District Board of Directors had resolved the week prior to the accident to adopt new protocols which would put first responders on a scene within seven minutes of a dispatch report. In this case, the Fire Department failed to meet those standards.
Motorcycle accidents are always scary to read about because you instinctively know that there is either going to be a severe injury or fatality involved. Accidents are trending downwards due to safer vehicles and features that alert drivers to other vehicles in their vicinity, however, motorcycles still rank high in accidents. This is mostly due to vehicle operators not expecting, or not seeing them in their blind spots. Car and truck drivers often overlook motorcycles as they change lanes or make turns. It is in fact, rarely the motorcycle operator which causes accidents.
Motorcycle accident lawyers often must work with families of accident victims because the accident was either fatal or so severely debilitating that the victim is not available. Usually, it is their family looking for a personal injury attorney to help them facilitate insurance claims or file the lawsuit. Our firm provides compassionate advice to all our clients and when we must go to court or trial to provide compensation we do that, too. It's unfortunate that drivers are not better trained to look for motorcycle riders because the result of a moment's negligence can cost a life.
The attorneys at O'Connor, Runckel & O'Malley are well known and respected throughout the legal community and among our clients. From our offices in Contra Costa County, San Francsico and Sacramento, we serve clients throughout Northern California. Our experience and expertise are available to you.
Published on behalf of O'Connor, Runckel & O'Malley LLP.