SAN PABLO, CA – A motorcyclist was killed Monday morning in a hit-and-run crash involving a big-rig travelling westbound on Interstate 80 in San Pablo. This was tragically the second fatal collision on the very same stretch of highway that day. The Contra Costa County Coroner was able to identify the victim.
Nicholas Brown, 35, from Fairfield, died in the collision, which was called in at 6:22 a.m. The accident happened on westbound Interstate 80 near El Portal Drive.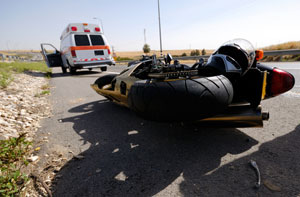 CHP Officer Matt Hamer said the big-rig truck, which was described as being yellow with a white trailer in back, hit Brown while making an unsafe lane change. Brown then struck another car, and this caused him to be ejected off his motorcycle, throwing him onto the highway. Brown was pronounced deceased at the scene.
Witnesses observed the big-rig driver pulling over and remaining for about five minutes before driving off, Hamer said.
A big-rig matching the description was later pulled over by officers, but that truck is not thought to be the big-rig involved in the crash. Hamer said that the search is still on for the suspected vehicle.

According to CHP officers, all lanes of the highway were reopened by 7:55 a.m.
Earlier that morning, in a separate crash on the same stretch of Interstate 80, Lindche Tran, 25 from Richmond was killed.
At approximately 4:05 a.m., Tran was driving along in a Honda Accord when suddenly it spun out of control, hitting the center median. The vehicle came to a stop facing the opposite direction and with lights out, Hamer said.
As Tran exited her car, a Dodge Charger was approaching and the driver could not avoid crashing into the Honda and Tran. She was pronounced deceased at the scene, said Hamer.
There were two occupants in the Dodge and both were transported to a local hospital suffering from minor injuries, Hamer said.
The highway remained shut down until about 6:10 a.m., which was less than 15 minutes prior to the collision that took Brown's life.
Anyone who has information on either traffic accident is encouraged to phone the Oakland CHP Office at (510) 450-3821.
If you have lost a loved one in an accident caused by another, you may be eligible to seek compensation. That compensation will include present and future wages, medical expenses, and funeral costs, but it will also include loss of love, guidance and companionship, moral support, and financial support. Protect your rights, contact an experienced wrongful death lawyer at O'Connor, Runckel & O'Malley LLP.
(Source: KGO)
Published on behalf of O'Connor, Runckel & O'Malley LLP