Late Wednesday afternoon, just as rush hour began and traffic began backing up on Vasco Road, a motorcyclist was injured in a 4-vehicle accident. The rider was transported to a local hospital with injuries that were described as "moderate to major," according to a spokesperson from the East Contra Costa Fire Protection District (ECCFPD).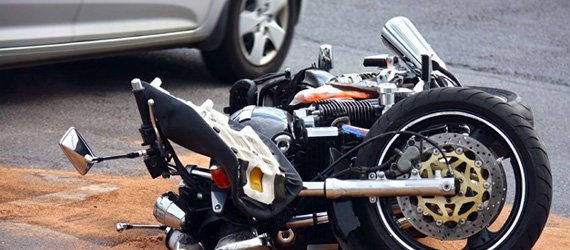 The 33-year-old male rider was reported to be an Alameda County police officer who was off duty at the time. He suffered a number of broken bones and was transported via CALSTAR medical helicopter to John Muir Medical Center's trauma unit in Walnut Creek. Captain Dan Baio of the ECCFPD said that the victim might have sustained other internal injuries as well.
"Now that he's being taken care of by the medical team at John Muir, his injuries are being fully examined and treated," said Baio.
The accident was called in at about 4:20 p.m. and happened approximately three miles south of where Vasco Road intersects with Camino Diablo.

An officer from the California Highway Patrol (CHP) who was investigating the scene of the accident surmised that distracted driving likely set off a series of collisions as northbound traffic suddenly slowed down on Vasco Road. The CHP officer said a black Hyundai Sonata slammed into a grey Honda CRV, propelling that vehicle into the back of a silver Acura TSX. Several cars spun around from the force, with one striking the motorcyclist, who had been riding on the shoulder at the time. The rider explained to the CHP officer that he had purposely moved over into the shoulder trying to avoid being hit.
Three other people were reportedly injured in the accident, but after being initially assessed by paramedics on the scene, they all chose not to be taken to the hospital.
While ECCFPD firefighters cleared a landing area for the medical helicopter, traffic was halted in both directions on Vasco Road. Traffic going northbound was backed up to Livermore. Traffic going southbound was back open one hour after the accident and traffic going northbound was back open not long after.
The CHP is still conducting an investigation into what caused the accident, however they do not think drugs and/or alcohol were a factor.
Because motorcycle accident cases are so complicated, you should definitely consult with an experienced attorney who specializes in motorcycle accidents. The law firm of O'Connor, Runckel & O'Malley have the knowledge and background you need. Our team of attorneys has more than 50 years of personal injury experience and a track record of success that is second to none. If you've been wrongfully injured we will negotiate for a top-dollar settlement or take your case to trial to ensure that you are fully compensated for your injuries.
(Source: The Press)
Published on behalf of O'Connor, Runckel & O'Malley LLP