SAN FRANCISCO, CA – Two people were killed and nine injured in a collision that occurred in the early hours of Sunday morning, as reported by the California Highway Patrol.
CHP Officer Bert Diaz said a call came in at 2:33 a.m. about a three-car collision caused by a vehicle going south in the northbound lanes of the freeway near Vermont Street hitting two other vehicles. The wrong-way driver is thought to have used the Vermont Street off-ramp to enter the freeway. 
Officer Diaz went on to say that the wrong-way vehicle continued on, striking another vehicle near Cesar Chavez Street. That crash caused someone to be thrown from a vehicle and they later died. The wrong-way driver, who was later identified as Kayla Wilson, 21, from San Jose, was also killed.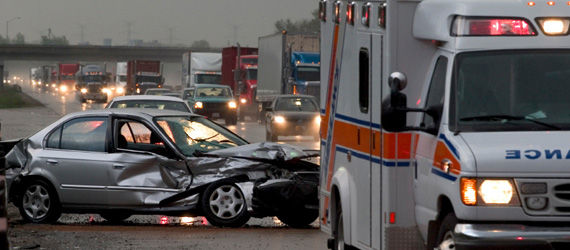 Diaz was not able to say at the time whether the person ejected was a passenger in the vehicle going the wrong way or was in the vehicle going northbound on the freeway.  
All freeway lanes going northbound were totally blocked from about 2:40 a.m. until just before 10:00 a.m.
The San Francisco Medical Examiner identified the other deceased person as Waheedullah Etimad, who was driving for Uber. Uber released a statement Sunday afternoon that said, "This was an extremely tragic incident and our thoughts and prayers are with the victim and his heartbroken family. We will work with authorities in every way possible to assist in their investigation."

Etimad was a 40-year-old Afghan immigrant who had assisted the U.S. Army in his home country before coming to the United States in 2015 to support his family. He leaves behind a wife and seven children.
He worked with the U.S. Army as a translator, but chose to relocate to the U.S. when it became too dangerous. In one Taliban attack he was shot a total of five times.
The victim's son, Yahya Etimad said, "There were so many Taliban and they knew he was helping the Americans, so they shot him. Luckily, he was taken to the hospital and his life was spared." 
Etimad was studying computer science at Pleasant Hill's Diablo Valley College while working full time, which included weekends, driving for Uber. 
A GoFundMe campaign has been started to raise money for Etimad's family. Nearly $30,000 had already been raised as of Sunday night.
A group of six people had called for an Uber and were riding in Etimad's Van when it was struck. Those six are currently recovering from their injuries, according to Dena Romios, a Power Muse concert promoter who employed two of those six.
Romios said Power Muse was planning on producing a Panos Kiamos concert, but the Greek pop star couldn't get a U.S. visa due to a computer glitch at the American embassy in Canada. So, the singer had to cancel his concert.
A group consisting of two production staffers along with four fans had gone out for dinner in Redwood City and later arranged for an Uber, which turned out to be Waheed Etimad's van.
Romios said of those six Uber passengers, four are in stable condition at Zuckerberg General Hospital and the other two have been released. 
(Source: 1 )