OAKLEY, CA – A man on the run after escaping a jail in Wyoming was driving a stolen Honda when he plowed into another vehicle last Tuesday, killing his female passenger and severely injuring himself.
Erica Pearce, 35 succumbed to her injuries later Tuesday at Walnut Creek's John Muir Medical Center trauma unit after initially being taken to Sutter Delta Medical Center for assistance with her breathing.
The Contra Costa County Coroner's office confirmed her identity on Thursday. Pearce was wanted by law enforcement in Missoula, MT for escaping a minimum-security jail and a warrant had been issued for her arrest.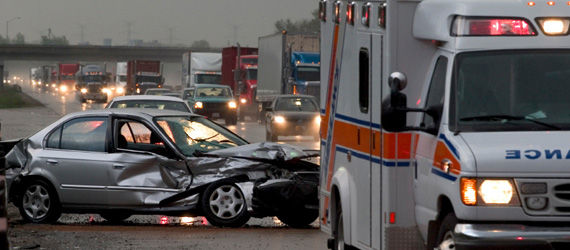 The driver of the Honda, Jerome Dunks, 37, was in taken to John Muir Medical Center and remains in critical condition, according to police. It is too early to know whether he'll survive his injuries.
Law enforcement said that Wyoming had issued an arrest warrant on Dunks for escaping a minimum-security jail. At the time of the accident he was driving a stolen Honda Civic that belonged to the state.
Police claim they have no idea how Dunks and Pearce knew each other or what their relationship was. They both managed to escape their minimum-security jails at about the same time, 10 days ago, according to authorities.
The collision occurred at about 5:10 a.m. in the intersection of Laurel Rd. and O'Hara Ave. As the Honda approached Laurel Rd. in the northbound lanes of O'Hara Ave., it moved into the southbound lanes, passing cars that had come to a stop, police said.
The Honda then moved back into the northbound lanes before entering the intersection and immediately T-boned the SUV. The driver of the SUV was taken by ambulance to a local hospital where he received treatment for his injuries.

The Honda and SUV were both totaled. The collision also damaged a critical fiber optic line, causing Internet and cable TV service to be interrupted for hundreds of people in the vicinity.
If you or family member has been in a motor vehicle accident or been the victim of motor vehicle negligence and want to consult with a Bay Area attorney who specializes in auto accidents, please contact us. We at O'Connor, Runckel & O'Malley have over 50 years of experience in litigation and at trial. Our record of success demonstrates our level of expertise. We would be happy to schedule a free consultation to answer your questions, explain your legal rights and how best to protect them.
(Source: East Bay Times)
Published on behalf of O'Connor, Runckel & O'Malley LLP