BRENTWOOD, CA – A three-vehicle traffic accident occurred Sunday night and injured two when the driver of a black Jeep Wrangler sped through a red light, according to what witnesses told the CHP.
It was just before 9:00 p.m. when the accident happened at the intersection of Marsh Creek Road and Walnut Boulevard. A CalStar air ambulance transported one of those injured to John Muir Medical Center's Trauma Center in Walnut Creek. According to Captain Dan Baio from the East Contra Costa Fire Protection District, the victim showed signs of a head injury.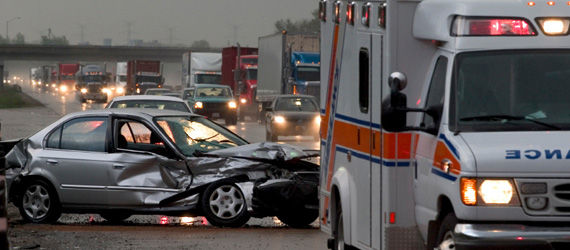 An ambulance transported the other injured person to Antioch's Sutter Delta Medical Center. She had only suffered minor injuries to her shoulder and abdomen.
CHP officers at the scene of the accident said that a white Toyota Venza was being driven south on Walnut Boulevard when it slammed into the passenger side of a black Jeep Wrangler. The driver of the Jeep was going west on Marsh Creek Road when it ran the red light, according to CHP officers. The force of the collision rolled the Jeep over until it came to rest on its side. After initially colliding, both cars slammed into a white Ford F-350 stopped at the intersection.
CHP officers said they did not observe any indication that either driver was impaired, however, expectations are that the driver who ran the red light would be tested after being treated for his injuries.
Engines 52 and 59 of the EECCFPD responded to the accident as well as Battalion Chief Craig Auzenne plus several AMR medical units. East of the scene on Marsh Creek Road was where a landing zone was established for the medical helicopter and this affected traffic for about an hour.
The automobile accident attorneys at O'Connor, Runckel & O'Malley are well known and respected throughout the legal community and among our clients. From our offices in Contra Contra Costa County, San Francisco, and Sacramento, we serve clients throughout Northern California. Our experience and expertise are available to you.
If you or a loved one has been the victim of motor vehicle negligence and would like to speak with a Bay Area auto accident attorney, please contact us. We are here to answer your questions and discuss how to protect your legal rights.
(Source: 1)