A three-car collision on Vasco Road that occurred Monday afternoon resulted in severe injuries to two drivers who had to be airlifted to a local trauma center for their injuries.
The 3:09 p.m. crash happened about one mile south of where Walnut Boulevard intersects with Vasco Road in Brentwood.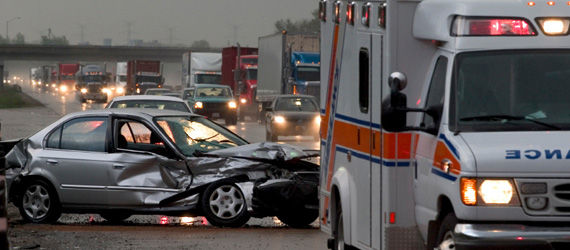 The California Highway Patrol (CHP) is continuing its investigation, but at this point there are very few details about the cause of the accident. What is apparent is that a black Toyota Corolla broadsided a silver Audi A4. A helicopter flew the Audi's driver to John Muir Medical Center's trauma center in Walnut Creek with "massive trauma" as described by Craig Auzenne, Battalion Chief of East Contra Costa Fire Protection District (ECCFPD).
The Toyota's driver was up and walking right after the collision, but soon after he began suffering from his injuries. People assisting at the scene immediately after the accident loaded him into a passerby's truck bed. When paramedics and firefighters arrived they initially treated him there before a CHP helicopter transported him to John Muir Medical Center. He suffered a broken wrist, chest pains, shortness of breath and it's possible he had other injuries.
The third vehicle involved in the accident was a gray Nissan Versa and paramedics at the scene treated and released that driver, whose car had front-end damage. Authorities are unsure as to what caused that damage.

The only occupants of the three vehicles involved were the drivers.
After the accident, Vasco Road remained closed between Camino Diablo and Walnut Boulevard while the victims were being rescued and treated and the two helicopters occupied the roadway.
Aside from the helicopters, Engines 52 and 59 of ECCFPD rushed to the scene, along with two AMR rescue ambulances, two battalion chiefs and a number of CHP officers. It took nearly 90 minutes to work the accident scene.
If you or a family member has been the victim of a traffic accident involving negligence and would like the advice of a reputable Bay Area attorney specializing in car accidents, please contact us. We can answer all your questions, advise you of your legal rights and how best to protect them. O'Connor, Runckel & O'Malley has 50 years of experience in personal injury litigation and trials. We have the kind of expertise and track record of success that can help you prevail in this situation.
Published on behalf of O'Connor, Runckel & O'Malley LLP
(Source: The Press )