SAN FRANCISCO, CA – A jury has reached a verdict of guilty in PG& E's trial, concluding that California's largest utility violated a safety law for pipelines and obstructed the federal government's investigation into the 2010 fatal pipeline blast in San Bruno.
PG&E was found guilty on Tuesday of five different felony counts, including willfully not inspecting and testing its gas lines plus one count of obstructing the investigation. The utility was found not guilty violating 6 other pipeline safety rules. The trial was held before Thelton Henderson, a U.S. District Judge. Judge Henderson earlier approved that the potential fines faced by PG&E be reduced by 99%.
The utility issued a written statement claiming that it had learned from the experience.
PG&E: Verdict of guilty in obstructing federal investigators in fatal pipeline blast, "As we focus on the future, we cannot forget the lessons learned from the past. The company has made incredible progress in the almost six years since that tragic explosion in San Bruno, and our commitment is to keep our focus on maintaining safety," said the statement. "We are letting our customers know that we remain fully committed to earning back their trust. Our entire team will continue to act with complete integrity and work around the clock to give them safe, clean, affordable and reliable energy."
A person speaking on behalf of the law firm representing the utility did not offer a comment, only a written statement saying: "We want to thank the jurors for deliberating hard to reach their verdict. We will be filing a motion for acquittal next week for the counts that remain."
PG&E faced fines in the millions of dollars if the jury agrees that PG&E did gain by breaking the safety law of the state. According to a report, the most the utility could be fined is $3 million since a ruling by the judge said prosecutors couldn't use recently approved safety standards to in an attempt to prove illegal cost cutting.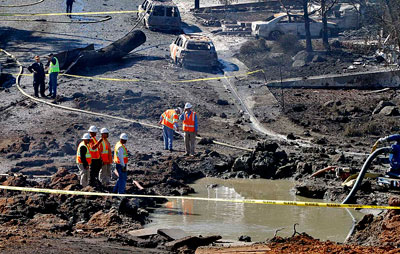 The verdict came after 6 weeks of trial testimony, the lawyers' closing arguments and the judge's jury instructions.
Prosecutors argued that the utility put profits over safety concerns. But PG&E's lawyers responded that the utility workers were deciding things to the best of their ability and did not willfully violate safety regulations.  
The utility was charged with a total of 11 counts involving violations of the United States Natural Gas Pipeline Safety Act requiring that records be kept on high-pressure pipelines transmitting natural gas, identifying and prioritizing all possible risks, like manufacturing defects and cracks, and to conduct the appropriate safety tests.
The safety violations allegedly happened in connection with a number of East Bay and Peninsula pipelines, which include Line 132, the one that broke apart and exploded on September 10, 2010 in San Bruno.
That blast and the resulting fire killed a total of eight people and injured 66. It completely destroyed 38 homes and caused damage to 70 others.
One neighbor said their family had to move away after losing their loved ones in the disaster, saying, "You get flashbacks and can't help it. You actually see visuals," is what Bill and Nellie said when they heard Tuesday's verdicts. "What kind of price can you place on lost lives due to negligence?" asked Nellie Bishop.
The entire neighborhood of Crestmoor is now filled with new or completely rebuilt homes.
"It blew up our entire neighborhood. It killed eight people. It's been six years and we still haven't put our lives back together. They're just getting a slap on the wrist for this and admonished to not do it again," said Bill, with his wife Nellie adding, "It absolutely makes no sense."

"The citizens of San Bruno are grateful that there were convictions in 6 of the counts that the utility was charged with. The jury realized during the course of this trial what we, who've live here have always known . . . that PG&E did put their profits over safety, and this led to the death of 8 people and a neighborhood totally destroyed. We hope this never happens in any community ever again," said Jim Ruand, Mayor of San Bruno in a phone interview.
As for Nellie and Bill Bishop, they're suffering from PTSD in the aftermath of the explosion. They kept a chunk of asphalt that crashed onto their home's roof the night of the blast. They acknowledge they're so lucky they were not physically hurt and that they were able to repair the damage to their house, but they are upset that justice wasn't really served.
PG&E was also convicted of 1 count of obstructing the federal investigation conducted by the National Transportation Safety Board (NTSB) of the blast. They mislead the board about the company policy regarding testing old pipelines like Line 132. The NTSB investigation concluded that the cause of the blast was a defective weld on a seam located on a segment of the pipeline that was installed back in 1956. On PG&E records it incorrectly stated that this segment was seamless and not tested appropriately or repaired.
Judge Henderson has yet to set a date for announcing the penalty he will impose.
The personal injury attorneys at O'Connor, Runckel & O'Malley are well known and respected throughout the legal community and among our clients. We have the skill and experience to ensure that individuals and their families receive the financial support necessary to help them move forward with their lives.
If you or a loved one has been seriously injured due to the negligence of another, please contact the lawyers at O'Connor, Runckel & O'Malley.
(Source: KTVU)
Published on behalf of O'Connor, Runckel & O'Malley LLP