Two Young Boys Killed In Tragic Highway 4 Crash Identified
Suspect in collision released from jail just one day before the crash; mom and baby remain hospitalized.
The names of the two boys that were killed over the weekend in the Highway 4 crash have been identified. On Monday the authorities released their names as their three-month-old baby brother remained in the hospital fighting for his life.
Lorenzo Reyes, 10, and Vincent Rothenberg 5, both San Pablo residents, were riding in a Dodge Durango when they were ejected when an Infiniti FX flew off the Solano Way exit going westbound onto the adjacent on-ramp slamming into the Durango, according to California Highway Patrol authorities.  
The crash occurred a little before 11 p.m. Friday night. The Coroner's office of Contra Costa County released the names on Monday. The boy's 35-year-old mother was still being treated on Monday at Walnut Creek's John Muir Medical Center for neck injuries. Their 3-month-old baby brother remained Monday at Oakland's UCSF Benioff Children's Hospital in critical condition.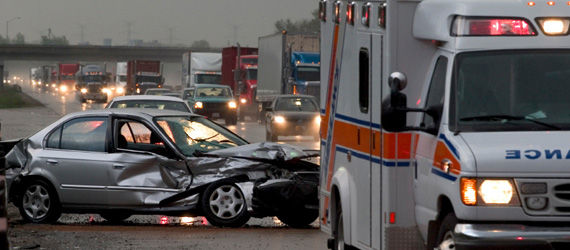 Lemuel Wilson, 35, from Oakland, is the one suspected of being behind the wheel of the Infiniti FX. He is now in custody, having been arrested for: suspicion of 2 counts of vehicular manslaughter, suspicion of 2 counts of hit-and-run that caused great bodily injury, as well as suspicion of 1 count of driving with a revoked or suspended license that caused great bodily injury.
Sgt. Ray Kelly, spokesman for Alameda County Sheriff's Office on Monday evening confirmed that last week Wilson had been in jail facing charges involving misdemeanor battery, making criminal threats, and possession of ammunition while at Gale/Schenone Hall of Justice in Pleasanton.
Wilson's case was heard before a Fremont judge last Wednesday. The judge lowered his bail, which was $100,000, down to $10,000. The following day, Wilson posted his lowered bail and was released from custody. That was one day before the Highway 4 crash, according to Kelly.

A GoFundMe account has been set up by one of the mother's friends to cover funeral costs for her two boys. The goal is to raise $20,000.
If you have lost a loved one in an accident caused by another, you may be eligible to seek a remedy and payment. Protect your rights, contact an experienced Wrongful Death Attorney at O'Connor, Runckel & O'Malley LLP. We are well known and respected throughout the legal community and among our clients. From our offices in Walnut Creek in Contra Costa County, San Francisco and Sacramento, we serve clients throughout Northern California. Our experience and expertise are available to you.
(Source: East Bay Times)
Published on behalf of O'Connor, Runckel & O'Malley LLP