WALNUT CREEK, CA – A luxury car crashed right into a house Sunday night in an unincorporated area of Contra Costa County, according to the California Highway Patrol.
The CHP dispatcher said that a call came at 11:34 p.m. of a white Mercedes Benz crashing into a house on San Miguel Drive, in the 2400 block across from Margaret Drive, which is near Walnut Creek. 
According to the dispatcher, the luxury car smashed through the front, continued going right through one room and into the next before it stopped.
Peter Zwart, the homeowner, said the family was asleep just feet from where the crash occurred. "My wife was sound asleep. The kids were just there and I happened to be in the living room," he said.
The car drove around the curve and the driver lost control, demolishing the mailbox and hitting the fence before it plowed right into the house. It barely missed a tree standing in the front yard.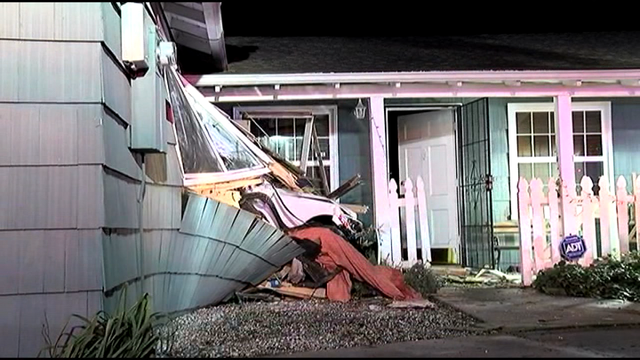 "There aren't any street lights. The guy must have gotten spooked by some other car driving up this way," continued Zwart. "That's why this happened I think."
Crews responded quickly to clear the scene, which was completed at 1:14 a.m. Monday morning.
CHP officers checked the driver out at the scene and said that it didn't appear that he was impaired in any way. They will now investigate whether speed may have been a factor.

This is not the only time a homeowner on San Miguel Road has had to clean up the mess after a car has slammed into their property. 
The speed limit on this curvy section of San Miguel Road is 20 mph, but neighbors report that drivers fly past their homes on a routine basis at speeds that are much higher, and as a result sometimes wind up in their yards.
Lynn Aspatore, who lives nearby, said her mailbox is always being knocked over by cars.
"This is a very common street for accidents," said Aspatore. "I see it over and over again, it's incredible!"
Zwart added, "It upsets me that people simply ignore the speed limit and take it to this extent. If he hadn't been driving a luxury car like this, I am not sure he would have been able to get out." He emerged unscathed, which I'm glad for."
There were no arrests made and no injuries were reported, according to the CHP. The front of the house was boarded up early Monday morning. Zwart did not provide an estimate of the costs involved in making the repairs.
Victims of auto accidents resulting from someone else's negligence or reckless driving may be entitled to financial compensation. O'Connor, Runckel & O'Malley has more than 50 years of  experience, both litigating and going to trial on cases. We have the experience you need with a proven record of success. If you or a family member has been involved in a motor vehicle accident due to another driver's reckless behavior or negligence and need to speak to a Bay Area auto accident lawyer, please contact us.  
Published on behalf of O'Connor, Runckel & O'Malley LLP
(Source: East Bay Times)