EL CERRITO, CA — A section of San Pablo Avenue was closed temporarily on Sunday evening as a result of a multi-vehicle accident that resulted in severe injuries to a passenger.
Police officers closed down a section of San Pablo Avenue between Waldo and Burlingame Avenues when responding to reports of a vehicle hitting a pedestrian. When law enforcement arrived on the scene, they found the man lying in the middle of the street going southbound on San Pablo Avenue, with three vehicles on the northbound side of the street.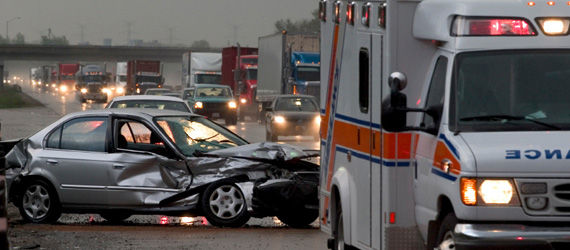 Officers eventually determined that the man lying there had been ejected from one of those three vehicles. He was taken by emergency helicopter to a nearby trauma center and was said to be in critical condition with multiple broken bones. Sgt. Jose Delatorre with the El Cerrito Police Department reported that he is expected to pull through.
After talking to the driver whose vehicle the man was ejected from, police suspected he had been drinking. They did a DUI investigation, which resulted in the arrest of the 20-year-old San Pablo man.

According to someone who witnessed the accident, the young man who'd been ejected was sitting on the roof of the car with his legs "dangling down through the moon roof" while the driver was wildly swerving the car from one side to the other and back, causing the passenger to suddenly fly off the roof, landing in a crumpled heap on the street. At that point, the car quickly spun around, crashing into another vehicle, which was a minivan according to the El Cerrito Fire Department.
"Seeing this was horrible," said Scott Hacker, a witness from El Cerrito.
The minivan that was crashed into then slammed into another minivan on the road.
Police plan on forwarding the DUI case to the Contra Costa County D.A. once they complete their investigation.
If you or a family member has been injured in a motor vehicle accident in El Cerrito, CA due to negligence and need to speak to an experienced El Cerrito auto accident lawyer, please contact us. We will answer your questions; discuss your situation and how we can be of help in protecting your legal rights.
The auto accident lawyers at O'Connor, Runckel & O'Malley have many years of experience successfully representing clients who have been the victims of auto accidents. We are very well respected in the Northern California legal circles and have offices in San Francisco, Sacramento and Contra Costa County. Our expertise in this area of the law can be put to work on your case. Please give us a call today.