MARTINEZ, CA – A man was arrested for the fatal hit and run crash that occurred on I-80 last Saturday and has been charged with 4 counts of murder, said county prosecutors.
Fred Lowe, 47 of Sacramento also faces felony charges for hit and run and drunk driving, as well as a number of additional charges that could increase his sentence. Court records show that Lowe was previously convicted for DUI and has a prior strike involving a conviction for robbery in Solano County.
Lowe was put under arrest after his car allegedly collided with a blue Mercedes, forcing it to crash into a white Nissan driving eastbound not far from the San Pablo Dam Road off ramp at approximately 8:10 p.m. on Saturday. The driver of the Nissan apparently lost control, going over the center divider and directly into westbound lanes before overturning.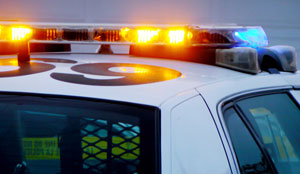 Four passengers riding in the Nissan were killed in the accident, all related to the driver Jared Horn, a sophomore at UC Berkeley and the pitcher for the university's baseball team. Horn and his family members had just attended a father-son basketball competition. The victims were pronounced dead at the scene and identified as Daryl Horn, 50, Jared's father; his brother Joe Horn, 14, his uncle Troy Biddle, 52: and his 13 year old cousin, Baden Biddle. 
Jared Horn received serious injuries in the crash and was hospitalized before returning home on Sunday, according to law enforcement. He was the only one who survived in his car. 
Lowe immediately sped from the scene, but Sheriff's Deputies from Contra Costa spotted his vehicle and arrested him shortly thereafter. Originally, he was put under arrest for vehicular manslaughter, however prosecutor Derek Butts said Lowe's history of drunk driving, plus "the way he was driving before the crash, the details of the accident, his fleeing the scene without stopping, and the level of alcohol in the defendant's system," justified the murder charges. 
Butts explained, "His actions before, during and after the crash displayed such a high level of recklessness that it shows implied malice, which is the mental state needed to justify charges of second-degree murder."

Murder charges, while uncommon in cases of a fatal car accidents, are not unheard of. In 1983, the California Supreme Court set the standard for filing murder charges in a DUI crash. The ruling was in a 1979 homicide case involving a defendant who was driving drunk on city streets at double the speed limit, running a red light and crashing into a car at the next intersection, killing two people.
For prosecutors to prove murder, they must convince the jury that the defendant should have realized his drunk driving and recklessness could potentially kill someone.
According to Contra Costa authorities, this was one of the deadliest car crashes in the county's history, however exact statistics weren't readily available. Contra County's most deadly crash occurred in 1976. That's when a Yuba City school bus overturned while exiting a freeway in Martinez. The bus was filled with honor students, and 28 were killed along with one adult.
Jail records show that Lowe's bail was set at $1.15 million bond, but once he's arraigned it could be raised. In the meantime, he's still in jail.
Jail records show that Lowe's bail was set at $1.15 million bond, but once he's arraigned it could be raised. In the meantime, he's still in jail.
Ff you have lost a loved one in an accident caused by another, you may be eligible to seek a remedy and payment. Protect your rights, contact an experienced wrongful death lawyer. When you call the law offices of O'Connor, Runckel & O'Malley, you will be talking with an attorney who has spoken with hundreds of people in your similar circumstance. You will be treated with the respect and sympathy you need during your time of heartbreak and anguish.
Published on behalf of O'Connor, Runckel & O'Malley LLP
(Source: CBS )