MERCED COUNTY, CA – Five people were tragically killed Tuesday and several others severely injured when a catastrophic crash ripped down the middle of a charter tour bus traveling north on Highway 99, according to the California Highway Patrol.
The bus crashed into the support post for the Hammatt Avenue exit sign not far from the city of Livingston, said CHP Officer Moises Onsurez, who was at the scene. Authorities said the crash happened at approximately 3:35 a.m.
"The post tore the unmarked bus straight down the middle, splitting it in half while it kept going forward after the initial impact," Onsurez reported. Video footage released by the Merced Sun-Star appeared to show firefighters as they climbed through the bus' windows in the dark, and the highway lined with waiting ambulances.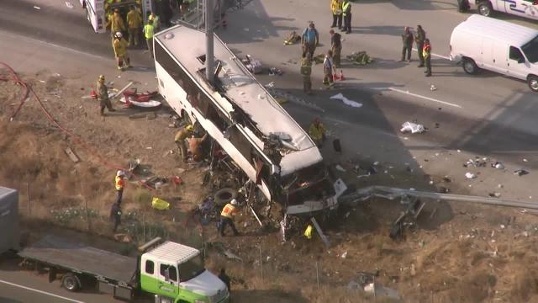 "This bus collision is nothing short of catastrophic," Onsurez said.  
There were approximately 30 passengers aboard the bus, and several suffered severe injuries, according to Onsurez. Around five of those injured were flown to area hospitals.
Authorities identified the driver as Mario David Vasquez, a 57-year-old man from Los Angeles, according to Onsurez. Vasquez "was severely injured" and was taken to the hospital Tuesday morning, he added.
The charter bus tour originated in Mexico, stopped in Los Angeles Monday night, before proceeding to Livingston where it made another stop on it's way to Washington, according to Onsurez.
The vehicle is legally registered to a company called Autobuses Coordinados USA, Inc., California Department of Motor Vehicles' records show. The company does have an office in East LA.

The 1998 tour bus weighs 16,000 lbs. when empty, and the DMV said its registration is valid through August 31, 2016.
It took until 7:50 a.m. to remove all survivors from the bus, but those who perished were still in place, Onsurez said. CHP officers took a number of surviving passengers to their Merced station.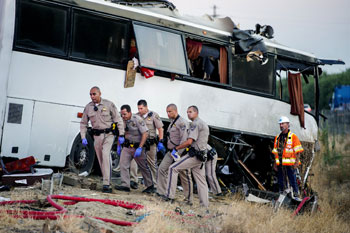 Investigators still have not determined what caused the crash, he said.
Highway 99 is still closed in the vicinity going northbound and the southbound lanes are being closed intermittently as needed for the investigation, according to authorities.
Millions of Americans depend on private and public bus transportation on a daily basis. If you or a family member has been involved in a public transportation accident due to negligence and you would like to consult with an experienced attorney who specializes in personal injury cases, please contact O'Connor, Runckel & O'Malley. Our law firm has more than 50 years of success in going to trial and in litigating cases. We are here to explain your legal rights, answer your questions and advise you on how you can best move forward to protect your rights.
(Source: LA Times)
Published on behalf of O'Connor, Runckel & O'Malley LLP