BRENTWOOD, CA – A two-vehicle traffic accident that occurred on Sunday night in Brentwood left five people injured. A 12-year-old girl who had lost consciousness was transported by air for treatment at UCSF Benioff Children's Hospital in Oakland.  
Battalion Chief Craig Auzenne of East Contra Costa Fire Protection District (ECCFPD) said that the girl had not been wearing her seatbelt when the cars collided. In addition to losing consciousness in the accident, she suffered facial trauma. Her current medical condition has not been released.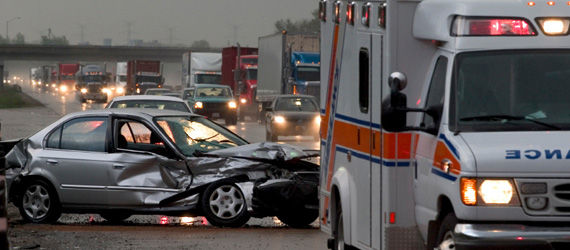 The others injured in the accident were two men and two women. They were taken to John Muir Medical Center's trauma unit in Walnut Creek for treatment of relatively minor injuries.
The crash happened on Sand Creek Road at 6:30 p.m. just outside the entrance of the Streets of Brentwood Shopping Center. Brentwood police who responded to the call had little to go on regarding what caused the accident since many of the people involved didn't speak English. The investigation is ongoing with the help of a translator.

The two vehicles that collided at the intersection were a silver Nissan Sentra and a silver Toyota Corolla. There were two occupants in the Nissan and five in the Toyota. One of the cars had been going east on Sand Creek Road after exiting State Route 4. It has yet to be determined what direction the other vehicle had been travelling.
According to Auzenne, this accident is considered a tier 1 mass casualty incident. Six medical units as well as engines from the Contra Costa County Fire Protection District and ECCFPD were sent to the scene, along with the CALSTAR rescue helicopter, which landed and took off from the Sprouts parking lot.
At O'Connor, Runckel & O'Malley we have 50 years of litigation and trial experience. We have the expertise and a proven track record of success. If you or a loved one has been the victim of motor vehicle negligence and would like to speak with a Bay Area auto accident attorney, please contact us. We are here to answer your questions and discuss how to protect your legal rights.
(Source: Brentwood Press)
Published on behalf of O'Connor, Runckel and O'Malley