Traffic moves at a snail's pace when driving during rush hour on Mission Boulevard in the Mission San Jose area of Fremont since thousands of vehicles are on the road all at once.
The drive was particularly frightening on August 3rd when a big rig dump truck rolled over while turning right off the Interstate 680 southbound exit ramp onto Mission Boulevard going north, dumping gravel all over the road and destroying parts of a car in the process.
Traffic accidents involving trucks often cause devastating injuries or even death to victims. Due to the enormous size and weight of big rigs and other commercial trucks, the rates of severe injuries and death for the occupants of the smaller vehicles in these accidents are higher than in most other traffic accidents.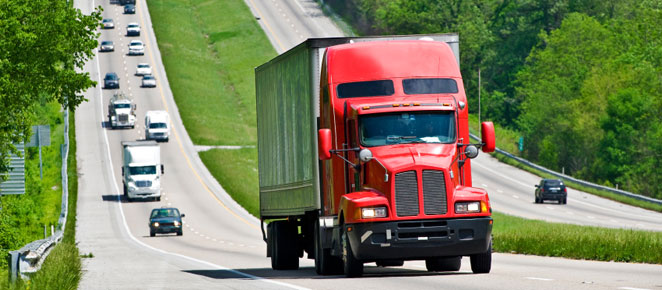 The trucking industry, as well as the government, is well aware of the risks that tractor-trailers, big rigs, semi-trucks, and 18-wheelers pose to others sharing the road. This is apparent when you look at the increased regulations and the additional requirements in the hiring and training of drivers as well as the loading. Despite all of these precautions, truck accidents still occur.
According to Fremont officials, there have been five similar rollover accidents involving big rig trucks at the very same interchange since December 2015. This is a very dangerous situation for thousands of commuters, not to mention the gridlock these accidents cause that can last for hours.
Fremont's director of public works, Hans Larsen said about this recent accident, "I immediately thought, 'Wow this feels like déjà vu.' " Others posted similar sentiments on Facebook about the frequency of these accidents.
"This occurred with another gravel truck just a few months back at that very same intersection. Maybe that location needs some work to make things safer," Heather Wallace commented on a Fremont Police Department posting on the latest accident.
Just over a year ago, on August 31, 2017, a nearly identical accident happened in the exact same spot during rush hour traffic in the afternoon.
A big rig carrying a full load of dirt rolled over on the road while turning right off the Interstate ramp. It landed in the median with one of its rigs thrown across the southbound lanes, crashing into a fence. This backed up traffic for hours.
"Apparently, trucks are speeding down that same 680 off ramp way too fast," Glenn Gutierrez commented on the police department's Facebook post about the accident. "What can be done to make it safer?"
Larsen said, "We are very distressed about this," adding, "It's definitely a problem that deserves serious study."
In this last incident, two people suffered injuries, and highway lanes and ramps remained closed for hours, which severely delayed traffic.
It's become such a concern that the city of Fremont is meeting with the California Department of Transportation (Caltrans), the agency in charge of managing the Interstate, the off-ramp and Mission Boulevard to seriously discuss that particular interchange.
"It's to make them aware of the seriousness and frequency of the problem and how many trucks have overturned at that one location. We need to know how they intend to respond to the situation and what solutions are available to remedy the problem," Larsen said.
Spokesperson for the California Trucking Association, Eric Sauer said he's glad that officials from the city of Fremont and Caltrans are meeting to take up the issue.
Sauer said, "We'll have to see if anything happens as a result of those meetings. I hope we can join in on those discussions at some point."
"We need to add more signs and rumble strips while making sure that all drivers know they need to slow down," he said. "These are steps the association can fully support," he added.
There are reminders on Mission Boulevard of the toll these accidents have taken. Along the curve there is a huge gouge in the pavement, caused when the trucks overturned, and oil stains from the engines blanket the median and roadway from all the previous accidents.
If you look closely at the median that runs along Mission Boulevard near the ramp you can see dirt, gravel and other debris from cars and trucks, including lug nut covers and glass.
Expert researchers who have studied large truck rollovers when carrying huge loads say that these huge trucks may not have the ability to sufficiently slow down when exiting the Interstate and are therefore unable to safely navigate that sharp right turn at the bottom.
On the 680 Interstate leading towards this off-ramp, vehicles are travelling downhill, and this particular ramp is sloped downward as well.
Drivers going left onto Mission Boulevard or continuing straight ahead must stop at the bottom of the ramp at the signal, but drivers going right onto Mission Boulevard are in a dedicated merge lane, so they do not need to stop at all.
Larsen is of the opinion that this current situation discourages vehicles from adequately slowing down, so they end up making their turn at higher speeds than are safe, especially when its a large commercial truck with a relatively high center of gravity.
"There really is no reason to slow down or stop unless you notice a pedestrian crossing the road there," he said of the downward right turn.
There is also a lack of signage. Yes, there is a sign suggesting a speed limit of 30 mph posted just ahead of the ramp, but there was no sign warning drivers that the off-ramp slopes downhill until just recently.
Three days after this recent accident, Caltrans put up two new "hill warning" signs, one just before the off-ramp and another one where the ramp begins. The signs show an "8%" with a drawing of a truck going downhill.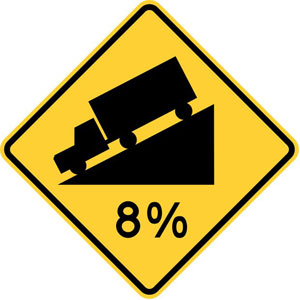 The Manual on Uniform Traffic Control Devices for Highways and Streets says that federal guidelines are that those signs are supposed to be installed before any downgrades of 8% that are over 750 feet in length and "where field observations and crash experience show a need." The Mission Boulevard off-ramp certainly qualifies.
A yellow sign was recently installed near the bottom of the off-ramp, showing a right arrow and a 15 mph suggested speed limit for the curve. However, officials from Caltrans seemed not to know whether that sign had been there before the latest accident or not. Looking at some Google Maps images, the sign does not seem to be there going back to 2015.
However, warning signs for drivers, especially truckers, to slow down when approaching the bottom of the ramp may be useless. This is according to a senior researcher at the Institute of Transportation Studies at UC Berkeley, Xiao-Yun Lu, whose expertise is in vehicle dynamics control.
"Some drivers assume that their truck could come to a stop if necessary. However, once they enter the curve, it's too late," Lu said when interviewed.
"Unless these drivers act sooner, there is no way they can slow down," he explained, especially when carrying a heavy load. "If their load is not evenly distributed, it is more likely that the truck will roll over."
Lu co-authored a commercial vehicle safety report in 2007 with other researchers that said speed is a vital aspect of truck safety.
"Travelling at high speeds is not only a threat to other vehicles on the road, but it also creates instability when it comes to the truck itself and can cause a rollover," says the report. It also warned that, "A loaded big rig requires 20-40% more stopping distance than an average sized sedan. The situation becomes worse on downgrades and/or on a wet roadway."
Lu said that although road and traffic engineers would need to carefully study the off-ramp and turn before they could recommend changes, there are some easy solutions that could be accomplished quickly.
He said that although the curve at the turn is banked slightly on its outer edge, it might be helpful to have steeper banking, which would allow trucks to more safely handle the turn. Reducing the suggested speed to 25 mph for the off-ramp, and putting up more signs well in advance along the Interstate warning drivers to slow down could also help, Lu added.

Larson is in full agreement, saying that police reports have suggested that one of the main reasons for most of these overturned trucks "has been their inability to get the brakes to adequately slow the truck down due to the downgrade." In a later email he said that in a couple of the accidents the left front tires buckled in the turn, "which caused the trucks to roll over."
He added that the area of Mission Boulevard has drawn their attention for needing to be upgraded for other reasons, specifically the danger faced by bicyclists and pedestrians crossing where the curve is.
Larson suggested that reconfiguring the bottom of the off-ramp to make it safer for everyone would be where they need to start.
"We have to acknowledge that there are too many problems with this off-ramp to leave it as is."
If you or a family member has been injured in a big rig or trucking accident and would like to consult with an experienced lawyer, please contact us. We will discuss your case, answer your question and explain how you can legally protect your rights.
The Law firm of O'Connor, Runckel & O'Malley has more than 50 years of legal experience specializing in personal injury cases. Our track record of successful outcomes for clients is well known in the legal community.
(Source: East Bay Times )
Published on behalf of O'Connor, Runckel & O'Malley LLP