LAFAYETTE, CA – On Thursday afternoon a bicyclist was tragically killed on Reliez Valley Rd. in Lafayette when a big rig truck struck him. The truck never stopped at the scene, but later on the driver and truck were both found.  
The accident was called in at 12:28 p.m. according to Lafayette Police. Firefighters and an ambulance were called to the scene and rendered treatment before transporting the victim to John Muir Medical Center, where he was unfortunately pronounced dead.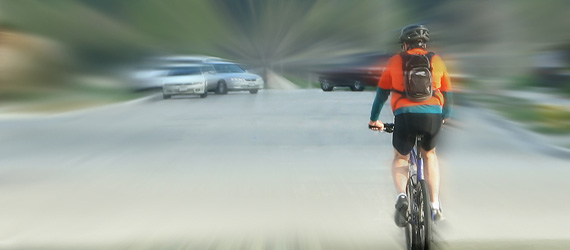 The name and age of the victim have not yet been released. The Lafayette Police Department continues to investigate the incident.
If you happened to have witnessed this accident, or have any information that could shed light on what occurred, please contact the Lafayette Police Department by phoning (925) 283-3680.
The Danger Big Rigs Pose
The U.S. Transportation Department has data that reveals that there are nearly a half-million truck accidents in this country each year. Estimates are that big rigs are the cause of 8% - 12% of all deadly accidents on the road. The weight of one of these trucks can be 40 tons or more and they can be up to 75 feet long. When you compare the size and weight differences between a big rig and a car, not to mention a bicycle, it's no surprise that accidents involving big rig trucks result in far more serious injuries and a lot more fatalities than all other road accidents.

Typical Causes of Bicycle Accidents in Lafayette
There are a lot of different causes bicycle accidents in Lafayette, some of which could be an unanticipated rainstorm, an impaired driver due to alcohol and/or drugs, a bicyclist or motorist not yielding or stopping, and more frequently, a driver or bicyclist who's distracted.
The types of injuries likely to occur from a bicycle accident: 
Major road rash or skin abrasions, cuts and severe bruising
Fractured, crushed or broken bones, so severe that amputation might be necessary
Spinal cord injuries, perhaps resulting in paralysis
Head injuries including traumatic brain injuries
The law firm of O'Connor, Runckel & O'Malley LLP have decades of experience handling severe personal injury cases. We consult with medical professionals including experts in vocational rehabilitation as well as accountants and financial planners to determine the full long-term impact of such serious injuries. We have the legal expertise to ensure that our clients are awarded the financial support they need to heal from their injuries and move on with their lives. Contact us now to schedule a free legal consultation with one of our personal injury attorneys.