CONCORD, CA – A pickup truck struck and killed a 60-year-old man on his bike Wednesday morning just after midnight, police said.
The fatal accident occurred at about 12:05 AM on southbound San Miguel Road in the vicinity of Systron Drive, according to police. The truck driver, a 57-year-old man from Antioch, suffered no injuries. He immediately called 911, remained at the scene and cooperated fully when the police arrived to investigate the collision.
Police held off identifying the victim until his family could be notified. Officers however did go ahead and pronounce him deceased at the scene.
Investigators still have not ascertained why the truck struck the cyclist, but it is not believed that drugs or alcohol played a part. Police closed San Miguel Road for 3 ½ hours between 1080 San Miguel Road and Systron Drive, a three-tenths-mile stretch.
Were You Hurt in a Cycling Accident in Concord? Contact O'Connor, Runckel & O'Malley for Help!
When you think about the fact that bicyclists have hardly any protection, save for a helmet to safeguard their head and maybe a little protective gear for arms and knees, when they collide with a car it is often catastrophic, if not fatal.
If you or a close relative has been seriously injured in a cycling accident, the personal injury law firm of O'Connor, Runckel & O'Malley can definitely help.
With many decades of legal experience in this area of the law, we waste no time in doing all we can to get you the maximum amount of financial compensation. Furthermore, we have plenty of experience going to trial if that's what it takes, so we're not going to settle for a meager amount.
We have an outstanding team of lawyers specializing in bicycle accidents who understand the full extent of the physical injuries they can cause. Very often these injuries are devastating if not disabling. Reach out to us today at (925) 939-5600 to arrange for a FREE legal consultation. Our bicycle injury attorneys will listen to you and dig into the police report. We will represent you throughout your claim so that you get the medical care you need and the compensation you deserve. 
What typically causes a cycling accident in Concord?
There can be quite a few contributing factors, any one of which can lead to a serious bicycle accident in Concord. It could be distracted driving and/or a distracted cyclist, either one could ignore a stop sign or fail to yield, one or both could be drunk or on drugs, and bad weather can often be a factor.
Types of injuries that commonly result from bicycle accidents include the following:
Fractured or crushed bones that can be so serious that amputation may result
Serious bruises, road rash, skin abrasions and cuts that may lead to disfigurement
Partial or complete paralysis due to severe spinal cord injuries
Closed head injuries and/or traumatic brain injuries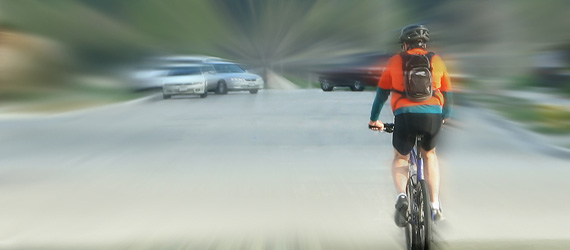 Arrange a FREE legal consultation with a top-notch bicycle injury attorney
Our Concord personal injury lawyers understand the ordeal you've been through and the uphill battle you are still facing. We specialize in bicycle accidents and have the ability to prepare a rock-solid case on your behalf. We can enter negotiations for a generous settlement or take your case to trial.
We are a highly experienced personal injury law firm that has represented hundreds of clients with serious injuries, including clients involved in all kinds of bicycle and pedestrian accidents. No one will fight harder for you than the law firm of O'Connor, Runckel & O'Malley.
Call O'Connor, Runckel & O'Malley today
You can trust our team of bicycle injury attorneys to successfully handle your case. We have more experience in this area of the law than any other Contra Costa County law firm. For a law firm that will aggressive fight for you, call O'Connor, Runckel & O'Malley at (925) 939-5600.

(Source: East Bay Times)
Published on behalf of O'Connor, Runckel & O'Malley LLP