O'Connor, Runckel & O'Malley LLP

is a law firm serving Walnut Creek, Contra Costa County, and the greater San Francisco Bay Area.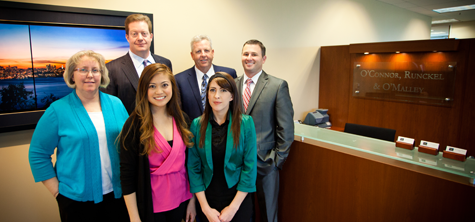 At O'Connor, Runckel & O'Malley, we are committed to the zealous representation of our clients in a wide array of serious personal injury and criminal matters. 
In our civil practice, O'Connor, Runckel & O'Mally LLP represents plaintiffs in serious personal injury claims with a proven record of success. Our firm's goal is to bring justice to those who have been harmed by the wrongdoing of others. Our mission is to seek justice for our clients and rebuild their lives by seeking full compensation for their losses. We retain the finest experts, engineers, and physicians to obtain the highest possible recoveries. We are proud to play a role in keeping the justice system strong by protecting the rights of the individual. We are results driven attorneys who bring a strong combination of education, experience and practical knowledge to the representation of our clients.
In our criminal practice, we draw upon over 90 years of combined experience as deputy district attorneys and a superior court judge. We have prosecuted and presided over more than 250 jury trials covering the gamut of criminal offenses. The cornerstone of our law firm's success is the extensive criminal law experience of Thomas M. O'Connor, Jason O. Runckel and William Daniel O'Malley. We have negotiated thousands of criminal cases and successfully tried hundreds of high profile felony and misdemeanor cases; including, murder, arson, residential burglary, torture, three strikes cases, domestic violence, driving under the influence, sex crimes, vehicular manslaughter, assault with deadly weapon, robbery, and juvenile. As a result of our extensive experience we have developed relationships with state and federal judges, hundreds of prosecutors, and virtually every law enforcement agency in the Bay Area. In summary, our trial ability, negotiating skills and relationships with judges and prosecutors are unsurpassed.