WALNUT CREEK – A crash involving three vehicles on an interstate interchange ultimately took the life of an Oakland woman nearly a week after the accident, authorities announced Tuesday.
A GoFundMe campaign was set up by Krystal Bystrom's friends to raise money for funeral expenses. Bystrom died October 20th, having survived for six days after the tragic accident. The crash occurred on the ramp connecting the southbound Interstate 680 to Hwy 24 going westbound. Traffic suddenly slowed down causing a chain-reaction of vehicles crashing. This forced Bystrom's Toyota Prius into the back end of a big rig truck.
The Contra Costa County Coroner confirmed Bystrom's death in the hospital. It was determined that she died of injuries suffered in the accident. Her death came just a few days before turning 34.
A 33-year-old female was riding with Bystrom in the Prius at the time of the accident, and although seriously injured, she is recovering.
 The 30-year-old driver of the big rig is a man from Dublin. He was on Highway 24 driving in the lane at the far left when approaching the interchange. The traffic had nearly come to a stop due to a construction zone ahead. The big rig and the Prius both slowed down, but the Highlander behind the Prius did not and slammed into the rear of the Prius. This forced the Prius into the big rig, according to the CHP, who also said that alcohol did not play a role in the crash.
Bystrom's friends and family are trying to raise donations for funeral expenses. If you would like to help you are invited to go to www.GoFundMe.com/vf6wcc98, which has seen more than $3,000 come in as of Wednesday at 3:00 p.m.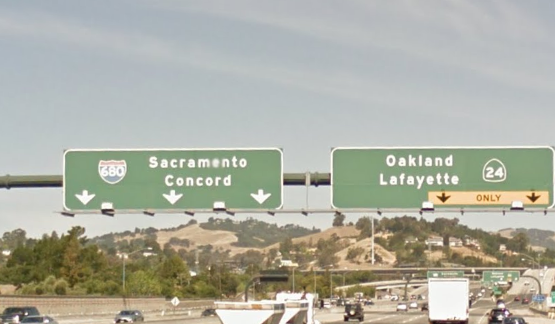 The families of those killed because of someone else's carelessness or negligence may be entitled be compensated for pain and suffering, loss of income as well as other damages. 
Accidents involving 18-wheelers are commonly caused by:
Excessive speed, not heeding lower speed limits for trucks
Negligence of other drivers
Failure to routinely inspect and maintain tires, brakes, and lights
Long hours causing driver fatigue, then nodding off at the wheel
Losing Control and jackknifing
Negligence of the truck driver
No blind-spot mirrors installed
Tailgating
Texting or making calls on cell phone
O'Connor, Runckel & O'Malley has more than 50 years of experience representing clients who have been involved in accidents. We have the knowledge and expertise to successfully represent you. If you or a loved one has been involved in a big rig or trucking accident and would like the advice of an attorney with a track record of success, Contact Us today. We will gladly answer all your questions, advise you of your legal rights and how best to protect them.
Published on behalf of O'Connor, Runckel & O'Malley LLP