DENVER, November 2, 2015 – A long-term study on using near-infrared (NIR) light for treating traumatic brain injuries (TBI) has shown this treatment to be effective. More than 2.5 million people are admitted every year to an emergency room suffering from this condition.

The research spanned years 2011 to 2013, studying 10 individuals with a mild to moderate TBI. Over a two-month period each patient was treated 10 times with a transcranial application of NIR pulsed light on high power. The duration of each treatment was under 60 minutes. Treatments with NIR light are known to re-energize dormant and/or damaged brain cells.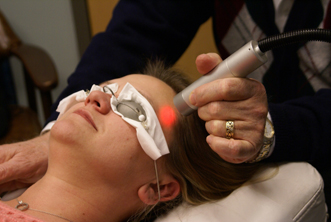 Previous studies have been done that were similar, using a continuous diode-based IR or low-powered NIR light, but with this study a Class 4 laser was used to administer 810-nm and 980-nm pulsing NIR at 10 – 15 W. According to Dr. Theodore Henderson from the Neuro-Laser Foundation and coauthor of the study, "Low-level NIR and LED at best only offer transient benefits, and often don't even penetrate the skin."
With the high-powered NIR allowing it to penetrate into the brain at least 3 cm, patients experienced a significant lessening of their symptoms of depression as shown on standardized sales measuring severity of depression, according to Henderson.

There were no reports of any adverse side effects. Of significance is the fact that the researchers found that the benefits lasted as much as four years after the course of treatments was administered.

Symptoms and signs of persistent TBI include: confusion, diminished impulse control, headaches, slips in memory, irregular speech, depression, anxiety, difficulty sleeping, and for some individuals, suicide. Those most likely to have a TBI are athletes and returning veterans.

In previous studies it has been shown that the areas of the brain most commonly injured are the bases of the temporal and frontal lobes, which are usually 3 to 7 cm beneath the scalp.
The Brain Injury Association of America states that of the people who experience a TBI in the U.S. about 4% succumb to their injuries, 80% receive treatment in an emergency room and get released, and 2% are admitted and hospitalized for a period of time.
About half of all TBI cases are the result of motor vehicle accidents and falls among people under the age of 75. There are over 5 million people living in America today who are disabled as a result of a traumatic brain injury.
The Bay Area law firm of O'Connor, Runckel & O'Malley LLP specializes in representing victims of traumatic brain injuries. We are a very reputable and well know law firm that has been practicing law for many decades. If you or a loved one has suffered a head or brain injury and would like the advice of an experienced attorney, please Contact Us today to schedule a consultation.

(Source: Neuropsychiatric Disease and Treatment )
Published on behalf of O'Connor, Runckel & O'Malley LLP