SAN JOSE, CA – A Greyhound bus packed with passengers faced a nightmare when the bus they were in flipped over on rain-soaked Hwy. 101 on Tuesday morning. Two women were killed and nine others were injured, including a small child, according to witnesses and South San Jose authorities who were at the scene.
Some passengers reported seeing the bus driver dozing off moments before the deadly crash, which occurred as the bus proceeded north towards the connecter to Hwy. 85. The driver has since admitted to being fatigued at the time. The bus trip departed the Los Angeles area on Monday night, with plans to stop in San Jose as well as San Francisco on its way to Oakland.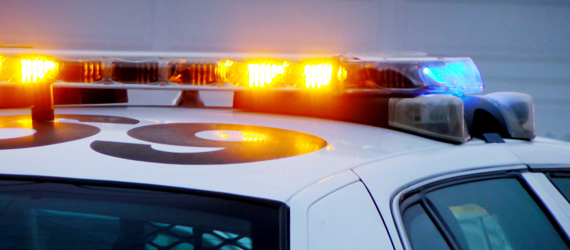 Lanesa Gipson, spokeswoman for Greyhound told reporters, "Everything is being investigated that took place from the moment the bus departed Los Angeles up until the time of the collision."
It was approximately 6:40 a.m. when the crash happened, and someone driving behind the bus related to the California Highway Patrol that they saw the bus proceed into the carpool lane as it approached the flyover ramp about 200 ft. ahead. That was when the bus lost traction on the slippery highway and become airborne before landing on its side.
Alex Ehlers, a passenger from Denver, CO described what happened to media reporters including KCBS saying, "I thought lightening had struck the bus, the sound was so loud and then I heard people screaming and yelling before I actually saw smoke billowing up from the back of the bus."

Ehlers also described hearing a "loud grinding sound" that lasted 15 to 20 seconds, before he felt a sensation of "weightlessness." This all happened, he said before the bus began to "see-saw" on the center divider. He and his girlfriend were able to climb out of the wreckage, and both describe being shocked at how grisly the scene was, "with people sprawled all over the highway face-down on the pavement."
Sgt. Lisa Brazil of the CHP said bus passengers told accident investigators that most of those on board were asleep when the crash occurred. That might also be the case for the bus driver, whose name has yet to be released, who Ehlers claimed seemed to be dozing off while at the wheel. 
"About 10 miles before the crash, the driver pulled the bus over to check himself, but wasn't able to," he said. "I could sense he was weaving the bus by jerking and not really steering the wheel, which gave me a horrible feeling right then and there."
The CHP said later that the bus driver did admit to accident investigators that he felt fatigued before the crash so stopped in Gilroy to buy coffee. He went on to say that he recalled smashing into crash barrels lined up on the highway and then suddenly the bus was lying on its side.
Gipson would not comment on the driver's claim of being fatigued, but was adamant in asserting that Greyhound bus drivers are definitely required to have at the very least, 9 hours of sleep prior to departing on any trip. Federal recommendations are for only 8 hours of sleep prior to any 10-hour period of driving.
The ongoing accident investigation will most likely involve the CHP's Multidisciplinary Accident Investigation Team (MAIT) as well as Greyhound Bus Lines. MAIT investigators were summoned to San Jose from San Luis Obispo for the investigation, which will involve doing a 24-hour driver profile as well as an examination of the bus to see if there were any mechanical issues.
The National Transportation Safety Board (NTSB) will also get involved in the investigation via a federal Highway Investigation Team that will conduct a parallel investigation for safety issues, according to Eric Weiss, an NTSB spokesman.
"We will be looking at all survival factors, like any structural issues with the bus, driver fatigue, basically the entire gamut of possible factors," Weiss said. "Any information we can learn as to what caused this accident will help prevent other similar accidents in the future."
Christopher Salcido, San Jose Fire Captain and a departmental spokesman, reported that up to 40 firefighters were called to the scene and immediately triaged the site to conform to a "multi-patient and potentially a multi-casualty" scenario.
Salcido said, "A bus this large, resting on a center divider, is a major incident. Our first priority is to get passengers out, those without injuries, so we can begin treating the ones that are and tend to the people who need to be pulled out."
Early Tuesday afternoon, the two female passengers that were killed were removed from the accident scene. Nine passengers in all were sent by ambulance to area hospitals. One was seriously injured and the others, including the driver and a 7-year-old child, suffered minor injuries.
It was not expected that the bus would be removed from the scene until late Tuesday evening, with initial estimates being 8 p.m. at the very earliest.
Information regarding the women who were killed was not released, except that they were adults. Gipson said there were 20 passengers plus the driver on the bus.
At least one passenger was admitted to San Jose's Kaiser Permanente Hospital and their hospital spokesperson, Karl Sonkin, said this patient was now stabilized. Others injured in the accident were taken to San Jose's Regional Medical Center, Good Samaritan Hospital, and Valley Medical Center.
Passengers who sustained no injuries or who did not require extensive medical attention were transported by another bus to the next stop on their trip according to Gipson. She announced that family and friends of passengers on bus Schedule Number 6876 should call 1-800-972-4583 if they would like to check on them.
Fatalities as a result of bus crashes in California have sharply increased over the last few years, when you look at statistics from the National Highway Traffic Safety Administration. There were four deaths as a result of California bus accidents in 2010, one death in 2011 and no deaths in 2012. However in 2013 there were 11 deaths and 17 more deaths occurred in 2014. Figures on the number of deaths resulting from bus accidents in California in 2015 were not yet available.
Millions of Americans depend on private and public bus transportation on a daily basis. If you or a family member has been involved in a public transportation accident due to negligence and you would like to consult with an experienced attorney who specializes in personal injury cases, please contact O'Connor, Runckel & O'Malley. Our law firm has more than 50 years of success in going to trial and in litigating cases. We are here to explain your legal rights, answer your questions and advise you on how you can best move forward to protect your rights.
(Source: CC Times)
Published on behalf of O'Connor, Runckel & O'Malley LLP