Because mild brain injuries can be very subtle and ambiguous, typical neuroimaging techniques done with MRIs or CT scans often show no concrete evidence of an injury. However, the brain damage definitely does exist. The type of technology used to perform brain imaging is somewhat limited and cannot identify a mild brain injury. A mild brain injury often occurs in the "white matter." "White matter" is full of neuronal connections, which are much more difficult to see and capture using current brain imaging technologies.
 There are more recent, more precise imaging technologies, which are promising in being more effective in detecting and capturing the damage that happens with a mild brain injury. The problem is that these newer imaging technologies come with a pretty hefty price tag, and are not commonly available. A few of the more recent imaging techniques would include:
Diffuse Tensor Imaging (DTI)
Functional Magnetic Resonance Imaging (fMRI)
Positron Emission Tomography (PET)
Single Photon Emission Computerized Tomography (SPECT)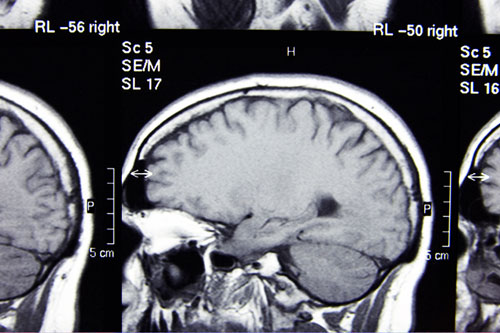 An assessment of neuropsychological functioning is commonly used to measure the functional impact that the mild brain injury is having on the patient. When a medical doctor suspects some level of brain dysfunction a neuropsychological assessment is normally requested. The diagnosis of a mild brain injury is usually determined by evaluating the symptoms the person is displaying and reporting about after being injured.
A number of tests are done obtain a complete assessment. These tests objectively measure how the brain is functioning in very specific ways. A variety of methods are used to assess attention span, memory, orientation, concentration, receptive and expressive language skills, ability to learn new material, spatial perception, mathematical reasoning, organizational and abstract thinking, social judgment, problem solving, motor skills, sensory awareness, general psychological adjustment and emotional traits and characteristics.

The neuropsychological assessment is normally used in determining where to begin when creating a rehabilitation program. It's vital in helping brain injury professionals in identifying specific areas of cognition that are impaired, as well as the cognitive areas that are still intact. You can learn more from the American Psychological Association about brain injuries and neuropsychological evaluations here.
The attorneys at O'Connor, Runckel & O'Malley have helped many Bay Area people who have suffered traumatic brain injuries, and indeed we specialize in this area of the law. We serve clients all over Northern California from offices in San Francisco, Sacramento and Contra Costa County. We welcome your inquiries and are here to offer our legal expertise in any way we can.
(Source: Brain Injury Assn. of America)
Published on behalf of O'Connor, Runckel & O'Malley LLP