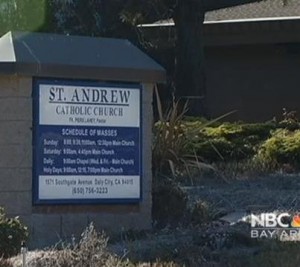 Three individuals were struck by a vehicle on Sunday, October 7th in a Daly City church parking lot, resulting in one death and two hospitalizations.

According to witnesses, the driver of a 2007 Toyota minivan (name unreleased) lost control of her vehicle and mounted the curb, pinning a girl, her mother, and another woman underneath.

Six people attempted to move the vehicle manually, but were unsuccessful. Eventually, a jack was used to unpin the three victims, and they were immediately moved to San Francisco General Hospital.

Six year old Danielle Naval of Daly City died of her injuries not long after hospitalization. The other two women are still recovering.

It not known whether or not the driver of the minivan will be. The Daly City police are still investigating the cause and circumstances of the crash.

A wrongful death is a death caused by a negligent, careless, intentional or reckless act of another person or corporation. All states guarantee the right to compensation for families and children of those who are killed in a wrongful death. If you have lost a loved one in an accident caused by another, you may be eligible to seek a remedy and payment. Protect your rights, contact an experienced trial lawyer.

At O'Connor, Runckel & O'Malley we offer caring and compassionate legal help during difficult times. Our attorneys have helped many grieving families achieve compensation in wrongful death cases. If you have lost a loved one, spouse, child, or family member due to a wrongful death, the anguish and heartache is unspeakable.

Experiencing the death of a loved one is an extremely difficult time and we understand that nothing can truly compensate you for the loss of your loved one. When you contact the law offices of O'Connor, Runckel & O'Malley, you will be talking with an attorney who has spoken with hundreds of people in your similar circumstance. You will be treated with the respect and sympathy you need during your time of heartbreak and anguish.