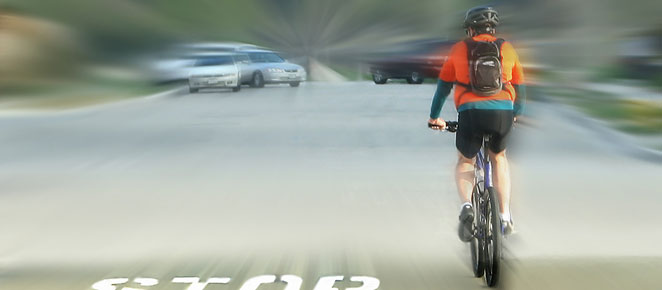 On July 4th at about 9:35 PM, a vehicle hit an unidentified cyclist in East Oakland, killing him. Police reported that the vehicle didn't stop, even after dragging the cyclist for around 100 feet. The victim was pronounced dead at the scene.

Witnesses reported a dark silver, late model sedan with a broken windshield leaving the scene on International Blvd., near 81st Ave. Skid marks at the scene indicate that the driver knew he or she had hit something, said a police spokesperson.

Investigators will soon search the area and pull surveillance videos from streets and nearby stores to see if a clear image of the vehicle was recorded.

Police and Crime Stoppers of Oakland are offering up to $10,000 in reward money for information leading to the arrest of the driver. Anyone with information may call police at 777-8570 or Crime Stoppers at 510-777-8572 or 510-777-3211.

When a bicyclist is hit by a car, the potential for serious injury or even death is significant. Although cycling accounts for less than 1% of all trips in this country, bicycle deaths make up 2% of total traffic deaths. Factors such as driver inattention can be deadly to even the most experienced bicyclist.

Because personal injury cases can be very complex, you need an experienced and aggressive attorney to successfully handle them. The attorneys at O'Connor, Runckel & O'Malley have the necessary experience. With over 50 years of trial experience we are not afraid to take anyone to trial that has wrongfully injured one of our clients. Contact us now for a free consultation with a personal injury attorney.

(Sources: SF Gate 2, Mercury News, CBS)