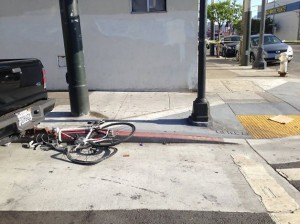 A bicyclist was killed in San Francisco's Mission district after colliding with a garbage truck on Thursday.

The accident was reported at 6:45a.m, May 23rd, 2013. The cyclist and truck were both traveling on eastbound 16th street when the truck attempted to make a right turn onto South Van Ness. According to a witness, the bicyclist was riding his bike at a notably high speed, and struck the truck as it was turning. Jorge Marquez, the driver of the truck, was stopped by pedestrians after dragging the cyclist for about a block. The cyclist was mangled by the drag and died at the scene.

A witness said that the bicyclist, 21 year old Dylan Mitchell of Clayton, could have been more careful. He had run a red light, didn't seem to be paying attention to his surroundings, and neglected to wear a helmet.

The section of South Van Ness between 16th and 17th streets was shut down for the duration of the cleanup and initial investigation.

Marquez is cooperating with investigators to discover the cause of the accident. No drugs or alcohol are suspected to have played a part in the incident.

Recology, the owner of the truck, released a statement in response to the crash, which read in part:

"Recology staff responded immediately and we are cooperating fully with police investigators. Our sincere thoughts and prayers go out to family members of the cyclist who died in this morning's accident."

The collision is not the first crash involving a Recology truck in San Francisco this year. In March, two pedestrians were struck at the intersection of Embarcadero and Broadway. That incident did not involve the same truck driver, and both of the people struck survived, however.

When a bicyclist is hit by a car, the potential for serious injury or even death is significant. Although cycling accounts for less than 1% of all trips in this country, bicycle deaths make up 2% of total traffic deaths. Factors such as driver inattention and poorly maintained roads can be deadly to even the most experienced bicyclist.

At O'Connor, Runckel & O'Malley LLP we represent people who have suffered serious injuries as a result of others negligence on California's roads and highways. The injuries that can result from an accident involving a bicycle and a motor vehicle are often catastrophic; including, brain and spinal cord injuries; fractures; abrasions; and internal and soft tissue injuries.

The attorneys at O'Connor, Runckel & O'Malley work with medical professionals, vocational rehabilitation experts, and financial planners to determine all of the effects of serious injuries. We have the skill and experience to ensure that individuals and their families receive the financial support necessary to help them move forward with their lives. Contact us now for a free consultation with a personal injury attorney.