While crossing the street in a clearly marked crosswalk, 90-year-old Ann Rosen was hit by a car and killed Thursday evening. This was the second pedestrian killed this week in Walnut Creek, according to police.
Walnut Creek police said they started getting calls about the accident around 6:00 p.m. and were immediately dispatched to the location at 2100 Tice Valley Blvd.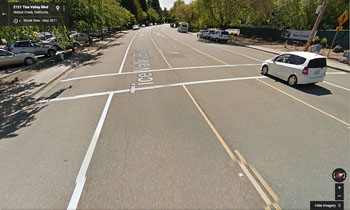 The Contra Costa County medical examiner identified the victim and reported that she apparently was walking inside the crosswalk when struck by the car driving north along Tice Valley Blvd. The ambulance took her to John Muir Medical Center, which is where medical staff pronounced her dead, reported police.
The 69-year-old driver of the car is a resident of San Pedro and remained at the accident scene, cooperating with the investigators, police said. "Drugs or alcohol do not seem to have played a role in the collision," according to police.
The driver suffered no injuries. According to police it was "darkness that apparently contributed to this accident." Police will continue to investigate the collision.
The other fatal accident occurred Monday morning when 56-year-old Maya Karmanova was killed by a car running a red light at the intersection of Treat Blvd. at Candelero Dr., city officials reported. The driver is a 44-year-old man residing in Manteca. He remained at the scene, cooperating with the investigators, who think that the rain-slick road was a contributing factor in the tragic accident.
The law firm of O'Connor, Runckel & O'Malley has more than 50 years of trial and litigation experience, with a solid track record of success. If you or a family member has been injured in a car accident due to negligence and would like to talk to an auto accident attorney in the Bay Area, we invite you to Contact Us. We will answer your questions, advise you of your legal rights and how best to protect them.
Published on behalf of O'Connor, Runckel & O'Malley LLP
(Source: SF Gate )